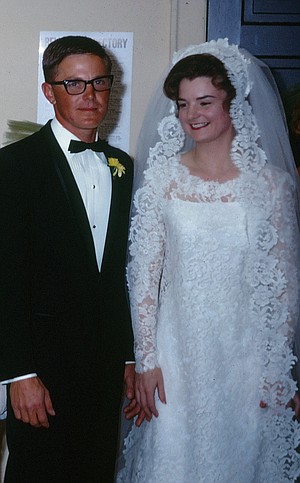 Hausman
Calvin and Roxana (Kanzig) Hausman are celebrating their 50th wedding anniversary. They were married on Nov. 22nd, 1967 at the First Presbyterian Church in downtown Lawrence, Ks. Calvin is a semiretired stockgrain farmer.Roxana, a reading teacher, retired from Lawrence Public Schools in 2007. They have a son, John Hausman, Eudora and a daughter, Gina Hauser and husband, Greg, Castle Rock, Co.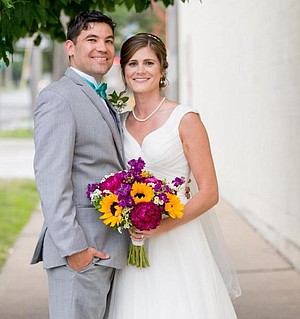 Callaway and Sudderth
Laura Callaway and Jeffery Sudderth were united in marriage on June 25, 2017, at Maceli's in Lawrence, Kansas. Laura is the daughter of Ron and Liz Callaway, Lawrence, and granddaughter of Rita Callaway, Concordia, Kansas. Jeffery is the son of Irene and Robert Blackman, Hockley, Texas, and Patrick Sudderth, Montgomery, Texas. The ceremony was officiated by Thomas Shonitsky. Heidi Bridges served as matron of honor. Bridesmaids were Whitney Keeler, Kerri Carson, and Elise Radcliff. David Sudderth served as best man. Groomsmen were Michael Blackman, Erik Wills, and Jason Tawse. Flower girls were Alayna Sudderth and Brooke Blackman, nieces of the groom. Ring bearer was Asher Callaway, nephew of the bride. Laura is a 2002 graduate of Lawrence High School, earned her Bachelors at KU and Masters of Library Science at Emporia State. Jeffery graduated from Tomball High School in Texas, and earned his Bachelors Degree from Colorado Technical Institute in Business Administration and Project Management. Laura is currently working as a teacher in Magnolia, Texas. Jeffery works as Logistics Manager for 4 Wall Entertainment in Houston. After a honeymoon to Belize, the couple is at home in Magnolia, Texas.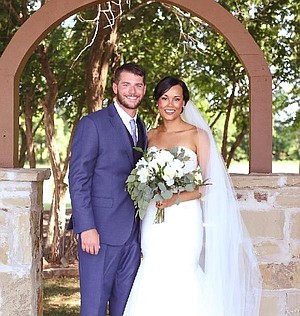 Rea
Keshia Clark and Aaron Rea were mar­ried June 15, 2017 in Ed­mond, Oklahoma at Chisholm Springs Ven­ue. Best man was Adam Rea, brother of the groom, Lawrence, Kan­sas. Matron of honor was Sarah Frabasile, friend of the bride, New York. Other grooms­ men included J.D. Sut­ ton, Connor Duckhorn, Robbie Rea, Andrew Polly, Jake Green, and Dylan Nave. Brides­ maids were Crystal Garman, Michelle Wolz, Danica Maggart, Courtney Martin, Darci Davis and Ashlee Pen­cis. Breanna Freeman, sister of the bride, also was an attendant who escorted ringbearers, Carter Fields and Raiden Mora, nephews of the bride. They reside in Ed­mond. Aaron is Assist­ ant Baseball Coach at the University of Cent­ral Oklahoma. Keshia is an LPN for Integris Medical Center. Aaron is the son of Dan and Julie Rea, Lawrence. Keshia is the daughter of Gene and Dawn Freeman, Ponca City, Oklahoma.