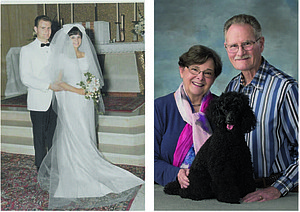 Leininger
Drs Steven and Mary Beth Leininger celebrated their 50th wedding anniversary hosting out of state family members by renewing their wedding vows on Saturday July 8 at St John the Evangelist Church in Lawrence, Fr. Jeff Ernst officiating. They were married July 8, 1967 at St Bartholomew Catholic Church in Middleburg Heights (Cleveland), OH. After more than 30 years at their companion animal veterinary practice in Plymouth Michigan, the Doctors Leininger (both graduates of the College of Veterinary Medicine at Purdue University), moved to Lawrence in 2000 when Dr Steve retired and Dr Mary Beth joined Hill's Pet Nutrition in Topeka as Director of Professional Affairs. This position followed her term in 1996/97 as the first woman to be elected president of the American Veterinary Medical Association. They share their Lawrence home with Jenny, a six year old miniature poodle.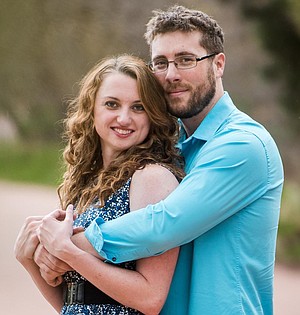 Forsythe and Kyriakos
Michael and Sara Kyriakos of Lawrence Kansas, are pleased to announce the engagement of their daughter, Paula M. Kyriakos to Noland Forsythe. Paula is a 2008 graduate of Lawrence High School, 2012 graduate of Kansas State University and 2014 graduate from Fort Hays State University. Noland is the son of Lori Forsythe and the late Russell Forsythe of Grand Island, Nebraska. Noland is a 2008 graduate of Grand Island High School and 2014 graduate of Fort Hays State University. Paula is a Speech Language Pathologist at the Shandy Clinic in Colorado Springs, Colorado. Noland is an Integrated Systems Technician for G.E. Johnson Construction Company in Colorado Springs, Colorado. They are planning a March wedding in Lawrence.