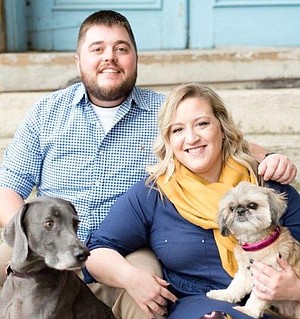 Goff and Walters
Barb and George Goff Jr of Baldwin City are happy to announce the engagement of their daughter Jaimie Goff to Dagan Walters, son of Janice Walters and the late Clifford Walters of Lawrence. Jaimie is the granddaughter of Charlene (Coates) Rockhold and Keith Rockhold of Centropolis, and the late Junior Coates, and George Goff Sr of Lawrence, and the late Frances Goff. Dagan is the grandson of the late Hildred and Johnnie Daniel, and the late Ruby and Tom Jones. Jaimie is a graduate of Baldwin High School and Washburn University with a bachelor degree in Health Communication. She is employed at Lawrence Family Vision Clinic. Dagan is a graduate of Lawrence High School and attended Johnson County Community College. He is employed with Natural Breeze Remodeling. A May 2018 wedding is set.
Nieder and Alumbaugh
The engagement is announced between Cody, son of Monte and Kristyn Nieder of Baldwin City, and Shauncee, daughter of Dana Annis and Russell Alumbaugh of Lawrence.