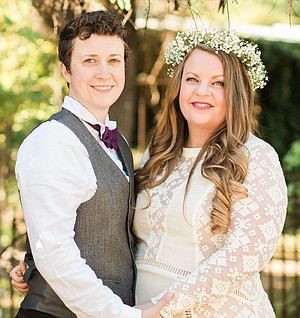 Rowden and Rogers
Elizabeth Ann Rowden and Jennifer Elizabeth Rogers were married on April 2, at The Writing Barn in Austin, Texas with Reverend Carol Jones presiding. Parents of the brides are Ray and Deb Rowden, Lawrence and Robert and Jacqui Rogers, Crescent, OK, and Myra Williams of Oklahoma City, OK. Betsy's grandparents are Walt and Lou Gehlbach, Lenexa, KS. The bridal party included Betsy's sister Kate Kuzmyak, Jen's daughters Emma and Mari Bigheart, Kelsey Moncrief and Traci Gentile. Betsy is a 2002 graduate of Lawrence High School. She earned her bachelor of science in anthropology at Kansas State University in 2006. Jennifer earned her master of library science from Texas Woman's University in 2010. They reside in Austin where Betsy works for Union Metrics and Jen is the PR supervisor for the Westbank Community Library District.
McCoy
Bill and Linda McCoy will be celebrating their 50th anniversary, June 11, 2016. They were married June 18, 1966 in Lawrence, Ks. A celebration is planned for friends and family at Blue Jacket Park, 12th & Cedar, Eudora, Ks. Their children and grandchildren will be hosting the party.
Scott
Larry & Carol Scott will celebrate their 50th Wedding Anniversary with an open house from 2¬4pm on June 12, 2016 at the Eudora Rec Center. Larry & Carol were married May 24th 1966 in Pittsburgh, KS.