Reschke
Ralph & Mary Reschke will celebrate with a family reception December 31, 2016. Hosted by Ralph Reschke Jr, Christine Fritzel, Gary & Cindy Aldridge, Tom Reschke families. Ralph & Mary are enjoying retirement from Hallmark travel­ ing and with family gatherings. Love Lawrence, lived here all 60 years!!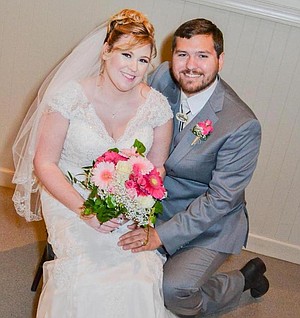 Zeller and Robertson
Bethany Zeller and Cory Roberson, both of Lawrence, KS were united in marriage on November 29th, 2015. Shawn Wheat, a dear friend and the one who initiated the couples first meeting via a local radio station, officiated the ceremony at Maceli's in Lawrence. Their evening recep­tion immediately fol­ lowed with close family and friends attending. Bethany is the daughter of Ronald and Rebecca Zeller of Lawrence. Cory is the son of Howard and Kathleen Clark of Lawrence, and Donald and Melissa Roberson of Wichita. Grandpar­ ents in attendance were Georgia Martin of Win­ field, Chuck and Donna Lockwood of Wichita, and Collin and Queen Shorter of Lawrence. On November 12th, 2016 a "Destination Re­ception" was held in their honor at The An­napolis Waterfront Hotel, MD, with exten­ded family and friends. Their newly born son, Killian Martin­Hayes Roberson, brought great joy to their celeb­ration of love. The Bride, a 2008 graduate of Free State High School, received a Certificate in Massage Therapy in 2010 from Pinnacle Career Insti­ tute, attended Kansas University and then began a career with Truity Credit Union in Lawrence. The Groom, after graduating Lawrence High School in 2008, enlisted in the United States Marine Corps and served 2 tours of duty in Afghanistan. He is a student at John­ son County Com­munity College with interests in Agriculture. He is employed as a Emergency Communic­ations Specialist with the Kansas University Public Safety Office. The Newlyweds, along with their son, happily reside in Lawrence.