Freitag
Rev. Robert and Mrs. Charline Freitag are lovingly celebrating their 66th wedding anniversary today Au­ gust 6, 2016. They were married in Denver, Colorado. Children Mark (Stephanie) and Kat (Patrick). All our love from your kids!
Snedeger
Happy 72nd Anniversary to Jean & Charles "Okie" Snedeger from their children, grandchildren & great grandchildren! They were married August 10, 1944. Cards may be sent to 1510 St. Andrews Dr., Apt . 200, Lawrence, KS 66047.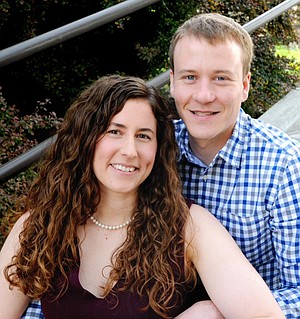 Toplikar and Chapin
Bonnie Toplikar and Ben Chapin, along with their families, an­nounce their engage­ment. Bonnie is the daughter of Dave and Diane Toplikar, Lawrence. Ben is the son of Barry and Rose­mary Chapin, Lawrence. Bonnie graduated from Lawrence High School and the Uni­versity of Kansas with a Bachelor of Science in Business and a Master of Accounting. Bonnie is employed at Deloitte in Kansas City as an audit manager. Ben graduated from Free State High School and the University of Kansas with a Bachel­or's degree in Psycho­logy and a minor in Social and Behavioral Research Methodology and received his Medical Degree from the Roy J. and Lucille Carv­er College of Medicine at the University of Iowa. He is currently in the Neurology Resid­ency Program at the KU Medical Center. The couple plan an October 2016 wedding.

Mody
Cawas (Bill) Mody and Janet Rachel Isbell were married on Au­gust 10, 1966, in James Memorial Chapel in New York City. Helping them celebrate their 50th wedding an­niversary are their son, Cyrus: his wife, Karen Burk: and their daugh­ter, Daria, who are vis­iting Lawrence from Maastricht, the Nether­lands, where Cyrus teaches History of Sci­ence at the University of Maastricht.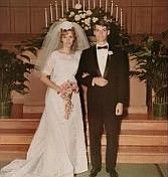 Krehbiel
Janeal Crabb Kre­hbiel and Randall Kre­hbiel were married August 12, 1966. They moved from Newton, Kansas to Lawrence, Kansas in 1990. Janeal, a life­long choral music teacher in Kansas and Colorado, founded and directed the Lawrence Children's Choir for 23 years. Randall was a family therapist/clinical social worker until re­tirement and is an act­ive volunteer in the Lawrence community. They have two daughters, Melissa Kre­hbiel of North Holly­ wood, CA, and Heather Krehbiel McDonough (Brendan) and three grandchildren, Grace, Brooke, and Griffin of Wichita, KS
Miller
Rev. Donald & Dr. Diane Miller will be celebrating 50 years of God's blessings on their marriage. The couple was married on August 21, 1966, at St. Paul's Lutheran Church in En­ id, Oklahoma. They moved to Lawrence in 1986 where Rev. Miller served as the pastor of Immanuel Lutheran Church until his retire­ment in 2005. Dr. Di­ane Miller completed her doctorate at The University of Kansas and retired Professor Emeritus, Emporia State University in 2011. The couple had two children, Jeff A. Miller and Kristi Miller Kruzel (deceased), one son in law, John D. Kruzel and one grand­ daughter, Moriah D. Kruzel.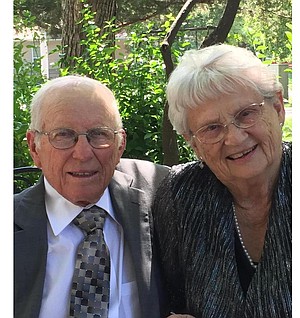 Slapar
E.R. "Bob" and Dar­ lene (Hanks) Slapar will celebrate their 65th wedding anniversary on August 28, 2016. Bob and Darlene were married on August 28, 1951, in Pittsburg, Kan­ sas, where they met while attending college. They have two daugh­ ters, Linda Lowdermilk and Jana Callaway, three grandchildren and four great­grand­ children. They have lived in Eudora, Kansas, since 1953. Darlene re­ tired from teaching home economics for 37 years at Eudora High School and Bob retired from Farmland Indus­ tries in Lawrence, Kan­ sas, after 38 years. A family celebration is planned to commemor­ ate this milestone. Cards may be sent to PO Box 31, Eudora, KS, 66025.