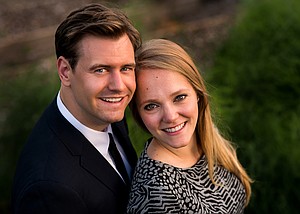 Byers and Zimmerschied
Mr. and Mrs. Jay Zimmerschied of Lawrence, Kansas are pleased to announce the engagement of their daughter, Amanda Marie Zimmerschied, to Kyle Joseph Byers, the son of Dr. and Mrs. Lowell Byers of Shawnee, Kansas. The bride-to-be is a graduate of Lawrence Free State High School. Amanda earned her Bachelor of Science in Journalism Strategic Communications and Bachelor of Arts in Political Science degrees from the University of Kansas. She is the Digital Sales Manager at WDAF-TV Fox 4 in Kansas City. Kyle is a graduate of Blue Valley North High School. He earned his Bachelor of Arts degree in Spanish and his Bachelor of Science and Master of Science degrees in Electrical Engineering from the University of Kansas. Kyle is an Electrical Engineer with Honeywell. A November wedding is planned at Our Lady of Perpetual Help Redemptorist Catholic Church in Kansas City.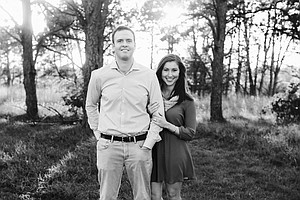 Fleming and Akert
Bill and Karla Fleming of Lawrence, Kansas announce the engagement of their daughter, Kaylen Fleming, to Brandon Akert, son of Leonard and Becky Akert of Lincoln, Nebraska. Kaylen is a graduate of Lawrence High School. She received a Bachelor of Arts degree from the University of Nebraska-Lincoln and a Juris Doctorate degree from Creighton University School of Law. She is currently an attorney with the law firm, Woods & Aiken LLP, in Lincoln. Brandon is a graduate of Lincoln Southeast High School and earned a Bachelor of Science degree from the University of Nebraska-Lincoln. He is currently owner and manager of Gate 25 Bar and Restaurant in Lincoln. Recently he created and founded Yes Chef, a catering company. An April 2016 wedding is planned in Lawrence, Kansas.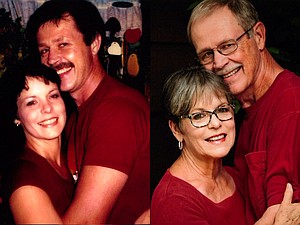 Patchen
Tom and Clarice Patchen, of rural Baldwin City, recently celebrated their 50th wedding anniversary. They were married September 10, 1965. The family business, Patchen Electric, is located in Lawrence. Earlier this year the couple observed their 50th on a trip to Cancun with their children and grandchildren. At the end of September, friends and family gathered for a backyard barbecue hosted by Tom and Clarice's kids; David and his wife Terry Patchen, of Lawrence, and Jason and his wife Danica Patchen, of Overland Park.