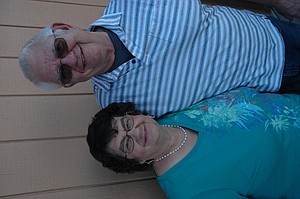 Lathrom
Everett & Martha Lathrom will celebrate their 50th Wedding Anniversary on May 8th. A celebration with family will be held on Saturday, May 16th in Eudora. Hosts will be their children, Aaron & Jeanene Lathrom, Brent & Shelby Lathrom, of Eudora, and Kyle & April Lathrom, Berryton, and their families. Please send regards in honor of their anniversary to 804 N. 1710 Rd., Lawrence, KS 66044
Schmitt and Brooks
Dennis & Carla (Brooks) Schmitt will be celebrating their 50th wedding anniversary this month. They were married May 21, 1965 in Lawrence, where they have spent most of their married life. They have one son, Doug, and his wife Lisa of Leonardville, KS, and one granddaughter, Whitney Van Dyke (dec.). They have no special plans but to enjoy the day.
Wells and Hovey
Elizabeth Wells and Michael Hovey of Lecompton are pleased to announce their engagement. The bride-to-be is the daughter of Garry Wells and Beverly Thrower of Lecompton. The groom-to-be is the son of John and Jackie Hovey of Topeka. The couple will wed in May 2015 at Spirit Lake in rural Jefferson County.
Smith and Terry
Laura Smith and Dustin Terry would like to announce their engagement. Laura and Dustin are both from Lawrence, KS. Laura is the daughter of Diana and John Smith of Lawrence, KS, and Dustin Terry is the son of Denise Pickens of Lawrence, KS and Darren Terry of Tonganoxie, KS. They are having their wedding in August 2015.