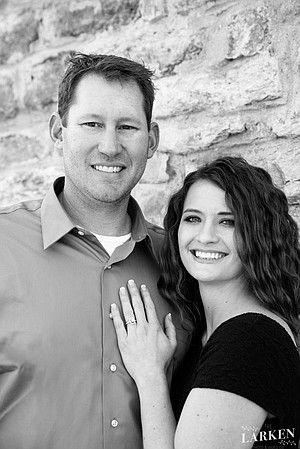 Weatherwax and Brack
Scott and Vickie Weatherwax of Lawrence are pleased to announce the engagement of their daughter, Cassie, to Codi Brack, son of Rose Brack of Moss Point, MS. Cassie is a 2002 graduate of Free State High School in Lawrence and earned her Bachelor's degree in Mathematics from the University of Kansas in 2008. She is employed at Nitto Denko Automotive in Kansas City, MO. Codi is a 1999 graduate of Lawrence High School. He is employed at Emery Sapp & Sons in Kansas City, MO. A September 2015 wedding in Lawrence is planned.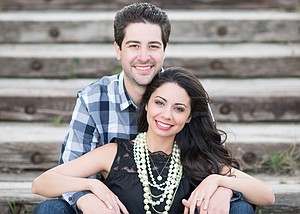 Bettis and Cooper
Michael and Pamela Perry of Great Bend and Toby Bettis of Wilsonville, Oregon are pleased to announce the engagement of their daughter, Rachel Bettis, Great Bend, to Cameron Cooper, Garnett. Rachel graduated from Great Bend High School in 2008, and earned her Bachelor's of Science degree in Communication Sciences and Disorders from Kansas State University in 2012. She is also a May 2015 graduate from Fort Hays University with a Master's Degree in Speech-Language Pathology. She has recently accepted a job with the Early Childhood Special Education program in Paola, KS. The future groom is the son of Scott and Terri Cooper, Garnett. He is also the grandson of Rosalie Burkhead and the late Dean Burkhead of Lawrence. Cameron is a 2006 graduate of Anderson County High School, and earned a Bachelor's of Science degree in Business from Kansas State University in 2010. He is employed as an Assistant Vice President at Patriots Bank. The couple will be married on December 12, 2015 at Our Lady Of Perpetual Help Church in Kansas City.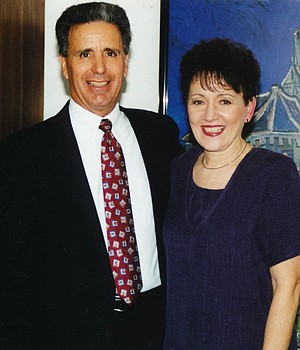 LaPoint
Jim and Ann (Cervera) were married on June 26th, 1965 at the First Presbyterian Church in Chicago Heights, Illinois. They have four sons and eight grandchildren (so far). Mike married Jenny Sindelar and we were blessed with a grandson, young Michael, and the twins Mia and Chloe. They presently live in Omaha, Nebraska. Mark married Jill Hilton and they gave us two Kansas babies, Sophie and Dominic. They reside in Lawrence. Matt married Dana Lutz and they welcomed two more grandchildren, Elle and Gina. They live in California. Mitch married Jennifer Simpson and all were delighted with the birth of our grandson John. An anniversary celebration is planned for later this Summer.