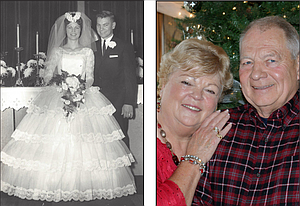 Gollhofer
Lloyd and Leila (Rahmoeller) Gollhofer, members of Corpus Christi Catholic Church in Lawrence, KS had their marriage blessed in honor of their 50th wedding anniversary January 3 at the 4 o'clock Mass by Msgr Krische. The couple was married by Fr. Thomas Donnelly at St Agnes Catholic Church on the Sarcoxie Prairie in Missouri on January 23, 1965. They have one daughter, Mary Jo, married to Allen Reed and three grandchildren, Zoe, Hannah Jo, and Davis. Lloyd and Leila will celebrate their anniversary with family and friends on the 31st of January in Lawrence.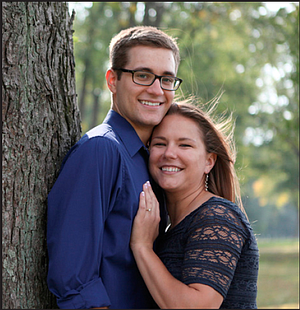 Wheatley and Clayton
Edward and Linda Wheatley and Andrew and Rebecca Clayton are pleased to announce the engagement of their children, Kathleen Wheatley and Jesse Clayton. Kati is a 2009 graduate of Lawrence High School and a 2013 graduate of the University of Kansas School of Engineering. She is an engineer for Halliburton in Williamsport, PA. Jesse is a 2010 graduate of Free State High School and will graduate with a degree in Anatomy and Physiology from Lycoming College in Pennsylvania in the spring of 2015. A May 2015 wedding in Lawrence, KS is planned.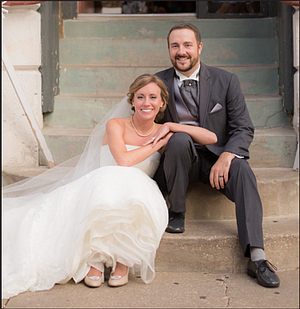 Jones and Volz
Nicole Jones and Brandon Volz, both of Lawrence, were married on October 4, 2014, at St. John the Evangelist Catholic Church, Lawrence, with Fr. Jerry Volz and Fr. Jeff Ernst officiating. A reception was held following the wedding ceremony at The Oread. The bride is the daughter of Joe and Nancy Jones, Lawrence. The groom is the son of Randy Volz and Susan Volz, Topeka. Grandparents of the bride are Robert and Madeleine Schehrer, Lawrence. Maid of Honor was Abby Jones. Matron of Honor was Ellie Heath. Best Men were Jonny Volz and Ryan Elder. Bridesmaids were Aubrey Volz and Julie Heschmeyer. Groomsmen were Colin Volz and Cody Jones. Flower girl was Reagan Heath. Ring bearer was Cooper Stoetzner. The bride is a 2005 graduate of Lawrence High School. She earned her Bachelor of Science in Biochemistry in 2008 from the University of Kansas. She is employed by Northwestern Mutual as a Financial Representative. The groom is a 2006 graduate of Hayden High School. He graduated in 2010 from the University of Kansas with a Bachelor of Arts in Psychology. He is employed by Advisors Excel as a Radio Producer. The couple reside in Lawrence.