Schmitt and Holladay
Roger Schmitt and Freda (Holladay) Schmitt celebrated 50 wonderful years of marriage on Feb. 16, 2015. They were married in Oskaloosa, KS. No special events were planned.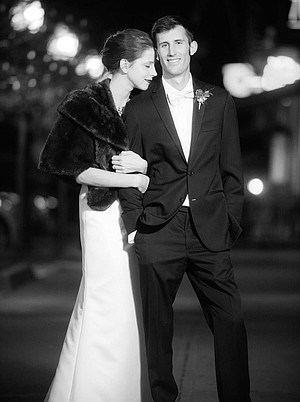 Schriner and Sneegas
Alexandra Schriner and Jason Sneegas were married on November 15, 2014, in the Crystal Ballroom of The Eldridge Hotel, with The Reverend Robert Baldwin of Trinity Episcopal Church officiating. Parents of the bride are Dan Schriner and Sally Hare-Schriner and parents of the groom are Randy and Ruth Anne Sneegas. Alexandra and Jason are 2008 graduates of Lawrence Free State High School and 2012 graduates of the University of Kansas; Alexandra with a BA in History of Art and a minor in Business and Jason with a BS in Civil Engineering. Maid of Honor was Anne Salvato, friend of the bride; bridesmaids were Apryl Hedges, cousin of the groom, Katie Mouallek, Laura Updike, Megan Belgeri and Alison Calhoun, friends of the bride. Best Man was John Sneegas, brother of the groom; groomsmen were Nathan Schriner, brother of the bride, Dylan Hedges, cousin of the groom, Cody Frazier, Reggie Hernandez and Billy Coldsnow, friends of the groom. The ceremony was followed by cocktails in the Big 6 Room and dinner and dancing back in the Crystal Ballroom. The couple honeymooned in Aruba and live in Mission, KS. Alexandra is Asst. Manager with Tommy Bahama on The Country Club Plaza and Jason is a Project Manager for Professional Services Industries.