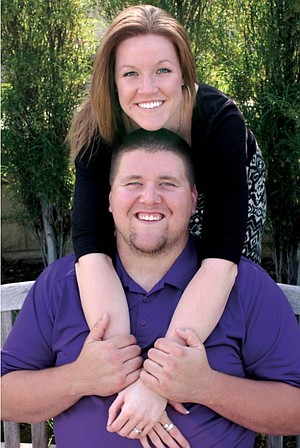 Finney and Weishaar
Mr. and Mrs. Gary Weishaar, Topeka (formerly of Lawrence), along with Mrs. Christy Finney, Andale, and the late Benjamin J Finney announce the engagement of their children Amanda Weishaar and Benjamin J Isaac (BJ) Finney. Amanda graduated from Kansas State with a BS in Public Relations in 2012 and a Masters in Business Administration in 2014. BJ graduated from Kansas State in 2014 with a BS in History and is currently employed by the Pittsburgh Steelers NFL Football organization. The couple resides in Pittsburgh, PA. A 2016 winter wedding is being planned.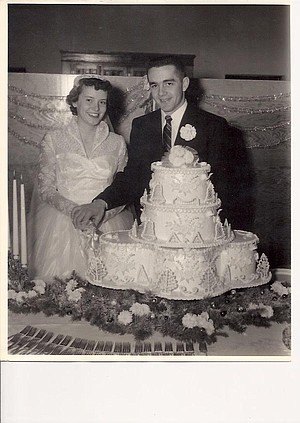 Rasmussen
Keith and Peggy Rasmussen are celebrating 60 years of marriage. They were married December 17, 1955, at the United Methodist Church in Lincoln, Kansas. The couple has four children: Greg (Nancy) Rasmussen, Andover, KS; John (Kim) Rasmussen, Topeka, KS; Ann (Chris) Lounsbury, Lawrence, KS; and Jill (Aaron) Chard, Fredonia, KS. They have seven grand-children: Erin (Michael) Rohr, Boston, MA; Neal (Sydney) Rasmussen, Minneapolis, MN; Carly Rasmussen, Manhattan, KS; Kathryn Rasmussen, Topeka; and Aidan, Claire, and Grace Chard, all of Fredonia. Keith and Peggy celebrated with a family dinner held in Topeka, on December 12. The couple resides in Lawrence.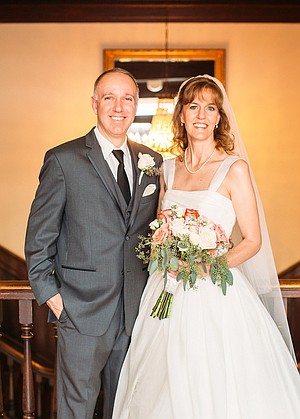 Marroulis and Darwin
Lorraine Marie Darwin and Steven Christopher Marroulis were married at the beautiful historic Women's City Club in Little Rock, AR, on September 5, 2015, with friend Jesse Griffin officiating. Lorraine's long time friends, Shannon Harvey, Kim Dillon, and Elizabeth Peters were bridesmaids. Wil Kline and Jason Latino, Steve's brothers-in-law, and Dan Moffett, Steve's cousin, were groomsmen. Lorraine is the daughter of David and Diane Darwin, Lawrence. Steve is the son of Ted and Carolyn Marroulis, Salem, OH. The bride is a 1990 graduate of Lawrence High School. She received both her B.S.Ed. and M.S.Ed. from the University of Kansas. After having taught math at Lawrence High School for four years, she relocated to Little Rock, AR in 1999 where she continued her career as a high school math teacher at Cabot High School. The groom graduated from Salem High School, Salem, OH in 1989 and received bachelor's degrees in Biology from The College of Wooster in Wooster, OH and in Computer Science from the University of MD University College. Steve is a Project Manager for an Information Technology company outside of Baltimore, Maryland, where the couple now resides.