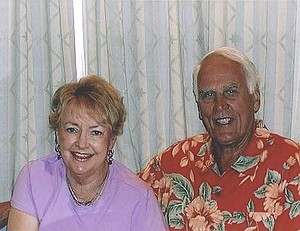 Lienhard
Bill and Jeanine Lienhard were married on August 27, 1955 in Wichita, KS. They enjoyed a small family celebration with daughters Julie and Betsy. Their son-in-law Bruce, granddaughter Jessica, her fiancé Tim and grandson Cody.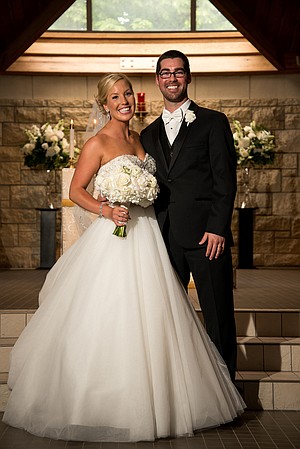 Kaegi and Green
Rachel Ann Kaegi of Prairie Village, KS and Daniel Timothy Green of Lawrence, KS were married on May 9th, 2015 at St. Lawrence Catholic Church. A reception was held following the ceremony at The Cider Gallery in Lawrence, KS. The bride is the daughter of Grant and Tami Kaegi, Lenexa, KS. The groom is the son of Tim and Debbie Green, Lawrence, KS. Grandparents of the bride are Ed and Dorothy Younger, Gial Kaegi and the late Marge Kaegi. Grandparents of the groom are Don and Mary Kay Craig, Mary Green and the late Pat Green. The Matron of Honor was Megan Leiker, sister of the bride. The best man was Jake Green, brother of the groom. Bridesmaids were Molly Green, sister of the groom, Becca Sheldon-Sherman, Emily Laskowski, Kristen Lyrek, and Melissa Blessen. Groomsmen were John Kaegi, brother of the bride, Travis Gage, Tony Williams, Kyle Craig, and Nathan Padia. The ushers were Patrick Leiker, Tucker Swanson and Johnny Novotny. The flower girl was Charlotte Leiker and the ring bearer was Edison Leiker. Guest Book was attended by Amanda Kaegi and Peggy Flood. Rachel graduated with a Masters of Accounting from the University of Kansas in 2012. Daniel graduated with a Bachelor of Science in Communications from the University of Kansas in 2012. Rachel is employed by KPMG as the Campus Recruiting Manager and Daniel is employed by Command Transportation as an Account Executive, both in the Kansas City area. They reside in Prairie Village, KS.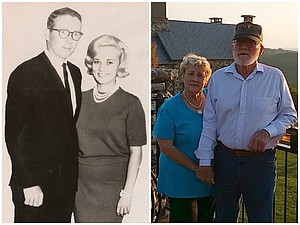 Skeet
Billy and Debbie Skeet of Tonganoxie Kansas, are celebrating their 50th Wedding Anniversary. The couple were married August 30th 1965 in Oklahoma, with a reception hosted by their parent's Harry and Audrey Skeet, and Thomas and Delores Dolan at the Reno Methodist Church. The couple have two children, Rebecca Grube, and Steven Skeet , and four Grandchildren. The family celebrated the occasion by taking a trip to Branson Missouri.