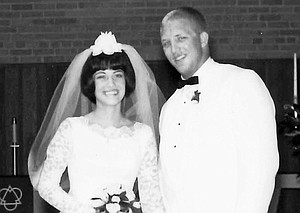 Pilch
Jim and Jill were joined in marriage on August 21, 1965 at Immanuel Lutheran Church in Lawrence, Kansas. They are both longtime Lawrence residents. It was here in Lawrence where Jim and Jill both met. They attended Lawrence High School and then the University of Kansas. Jim taught science for 3 years before becoming a successful self employed insurance agent through Farmers Insurance Group. He retired in 1997. Jill taught kindergarten before going to work for Southwestern Bell/AT&T, retiring in 2007. Jim and Jill have three wonderful children, James II, Chris, and Amy. They have 5 super wonderful grandchildren, Carter, Taylor, Alex, Grace, and Blake. Come celebrate in this joyous occasion with Jim, Jill, and their family on Sunday August 23rd from 2-4 pm at the historic Carnegie Building located at the corner of 9th & Vermont in lovely downtown Lawrence. No gifts please. ROCK CHALK JAYHAWK!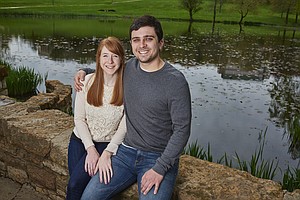 Richardson and Underwood
Earl and Teresa Richardson of Lawrence, KS, are happy to announce the engagement of their daughter, Kelsey Richardson, to Grady Underwood, son of Anne Underwood, Lawrence, and the late Richard Pasley. Grady and Kelsey are both 2007 graduates of Lawrence Free State High School. Kelsey received her B.S.J. in News and Information from the University of Kansas in 2011, and she is employed as an administrative assistant at Pennington & Company. Grady received his A.A.S. Degree in Civil Engineering from Johnson County Community College in 2012, and he is employed as an independent contractor for Trothart Renovations. The couple resides in Lawrence, and they are planning an October 2015 wedding.