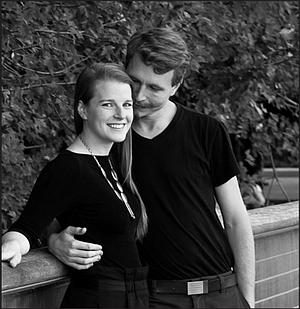 Edwards and Dickson
Together with their families, Emily Edwards and John Dickson are delighted to announce their engagement. The future bride is the daughter of Anne & Rich Bailey and Carl Edwards & Mark Stotler, all of Lawrence, Kansas. Emily graduated from Lawrence Free State High School in 2007. She received her BA in art history from Cornell College in 2011 and her MA in art history from the University of Illinois at Urbana-Champaign in 2014. She currently works at the Art Institute of Chicago and Lillstreet Art Center. The future groom is the son of Sarah Simmons & the late John Thale of Chicago, Illinois, and Chris & Rebecca Dickson of Evansville, Indiana. John graduated from Northside College Preparatory High School in 2007, and received his BA in mathematics as well as his secondary education certification from Cornell College in 2011. He is the founder of Spoken Art Bicycle Wraps, Johnseye Photography, and teaches at Near North Montessori School. Emily and John reside in Chicago, Illinois, and plan a September, 2015 wedding in Lawrence, Kansas.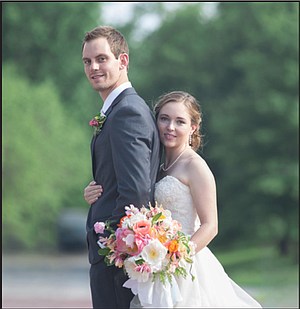 Fredrickson and Nagengast
Amanda Jean Fredrickson and William David Nagengast, both of Lawrence, were married on May 25, 2014, at Redeemer Lutheran Church, Lawrence. The bride is the daughter of Kevin and Lisa Fredrickson, Lawrence. The groom is the son of Dan Nagengast and Lynn Byczynski, Lawrence. Maid of Honor was Rachel Unruh. Best Man was Andrew Voth and Honorary Best Man was LCpl Kevin Calton. Bridesmaids were Laurel Nagengast, sister of the groom, Naomi Leary and Marie Osterhaus. Groomsmen were John Fredrickson, brother of the bride, Graham Unruh and Eric O'Rear. Ushers were James Fredrickson, brother of the bride, Tim Fredrickson, Evan Fast and Peter Zemanski. The Bridal Attendant was Rebecca Casey. A reception was held following the wedding ceremony at The Cider Gallery, Lawrence. The bride and groom are 2007 graduates of Lawrence High School. The bride earned her Bachelors of Science in Business Administration in 2011 from Bethel College. She is employed by Ogden Publications as a Marketing Communications Designer. The groom graduated in 2012 from Bethel College with a Bachelors of Arts in History. He is employed by the Stone Group West as the Midwest Sales Representative. The couple reside in St. Louis.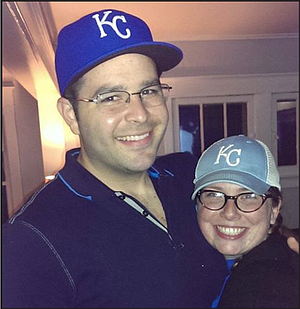 Phelps and Kelly
David and Karen Phelps of Lawrence are pleased to announce the engagement of their daughter, Elizabeth, to Michael Kelly, son of Randall and Marilyn Kelly of Leawood. Elizabeth is a 2003 graduate of Free State High School and a 2007 graduate of the University of Mary Washington in Fredericksburg, Virginia. She is an assistant editor at Andrews McMeel Universal in Kansas City. Michael is a 2004 graduate of Rockhurst High School, a 2007 graduate of Kansas State University and a 2011 graduate of the University of Kansas School of Law. He practices law with Morrow Willnauer Klosterman Church, LLC in Kansas City. The couple resides in Roeland Park, Kansas. An April 2015 wedding is planned in Kansas City.