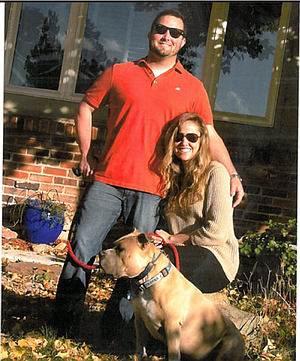 Todd and Holladay
Mr. and Mrs. Alan Todd of Leawood, Kansas are pleased to announce the engagement and upcoming wedding of their daughter, Emily Todd to Jason Holladay son of Willard and Robin Holladay of Lawrence, Kansas. The couple will be tying the knot in Montego Bay, Jamaica on December 13, 2014.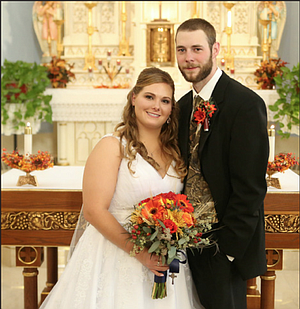 Montgomery and Visocsky
Ashley Montgomery and Joshua Visocsky were married November 1, 2014, at St. Catherine Catholic Church, Catharine Kansas, with Fr. Pat Sullivan of Frankfort Kansas officiating. Parents of the bride are Will & Pam Montgomery, rural Catharine. Grandparents of the bride are Joyce Dreiling, Catharine, Leo Walter, Hays, and Paul Dreiling, rural Ellis. Parents of the groom are Keith Visocsky, Topeka, and Allison Salsbery, Meriden. Grandparents of the groom are Pam & Roy Cook, rural LeCompton, Frank & Glenda Visocsky, Topeka, and Willard & Mary Jane Salsbery, Glendale Arizona. The bride was escorted by her father. Maid of honor was Amanda Montgomery, sister of the bride. Bridesmaids were Laura Montgomery, sister of the bride, Danielle Cooper and Sabina Hoffman, friends of the bride. Best man was Tyler Kruse, friend of the couple. Groomsmen were Chase Polifka, Nathan Braun, and Joseph Reid, friends of the groom. Ushers/Junior Groomsmen were Luke Montgomery, brother of the bride, and Wesley Visocsky, cousin of the groom. The bride is a 2009 graduate of Hays High School and 2013 graduate Fort Hays State University. She is a soil conservationist for the USDA-NRCS in Marshall & Washington Counties. The groom is a 2009 graduate of Oskaloosa High School. He is a corrections officer at Tecumseh Nebraska State Prison. The newlyweds are at home in rural Marysville Kansas.