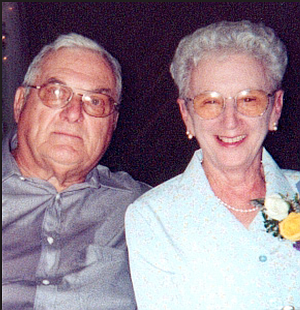 Johnson
Rex and Shirley (Baker) Johnson, Lawrence, Kansas are celebrating their 60th wedding anniversary. They were married October 31, 1954 at Plymouth Congregational Church in Lawrence. Rex was the Douglas County Sheriff for 24 years. The couple has 5 children: Allen and Robin Johnson, Lawrence, Dale and Kathy Johnson, Lawrence and Susan Johnson, Pooler, Georgia, the late David Johnson and the late Dwayne Johnson (infant son), Lawrence. They also have 9 grandchildren and 14 great-grandchildren. Cards maybe sent to 1211 E. 600 Rd, Lawrence, KS 66047.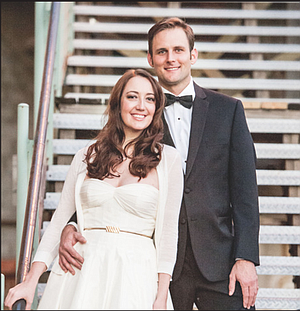 Kavanagh and Stallings
Alison Kavanagh and Michael Stallings are happy to announce their one year wedding Anniversary on November 9, 2014. Cheers and best wishes to the happy couple. "She danced a jig and sang a song that took my heart away."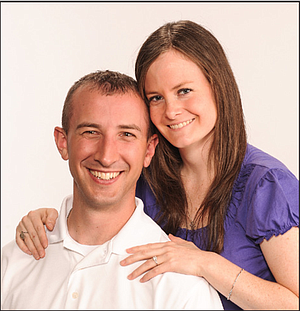 Ward and Gunselman
Terry and Debby Gunselman of Lawrence and Janis and the late Joe Ward of Chanute are pleased to announce the engagement of their children Jack Gunselman of Lawrence and Kerstin Ward of Chanute. Jack is a 2001 graduate of Lawrence High School and a graduate of Emporia State University with a degree in Business Management. He currently is employed by the Kansas Army National Guard, Topeka. Kerstin is a 2008 graduate of Chanute High School and a graduate of Coffeyville Community College. She is employed by Neosho Memorial Regional Medical Center, Chanute. They will be married at St. John Catholic Church in Lawrence on February 21, 2015.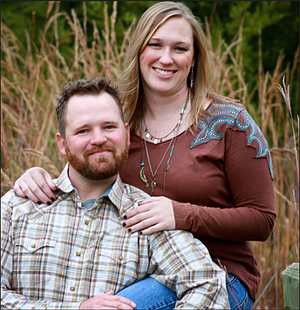 Ratcliff and Young
Michelle Ratcliff and Kyle Young, along with their parents, are excited to announce their engagement. Michelle is the daughter of Janet Harnar. She graduated from Lawrence High School in 2003. She went on to earn her bachelor degree in Agricultural Business from New Mexico State University and MBA from the University of Kansas. Michelle is employed by Smithfield Farmland Foodservice in Kansas City, MO. Kyle is the son of Martha Baker and Craig Young. He graduated from Shawnee Mission North High School in 2003 and attended JCCC for the Ford Auto program, Turf Management and Landscape Design. Kyle is employed by Kansas Gas Service. Michelle and Kyle will reside in Kansas City, KS. They are planning an October 2015 wedding to be held in Lawrence.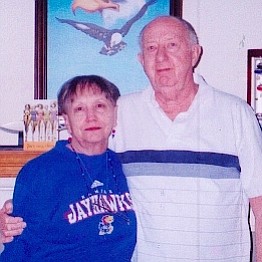 Miller
Ronald & Janice Miller's 50th wedding anniversary will be on November 11. They were married on November 11, 1964 in Lawrence, KS. Ronald is retired from Farmland Industries and Janice from Farmland Industries and Lawrence Memorial Hospital. Their son, Roger and his wife Angela Miller of Bedford, TX have 2 daughters, Ashley and Kaely. Their son Mike and his wife Brenda Miller of Lawrence, KS have 2 daughters, Tiffany and Crystal. Grand daughter Crystal Miller & Chris Fannin are the parents of Great Grandson, Noah Michael Dean. A celebration with the family members will be observed during the Thanksgiving holiday.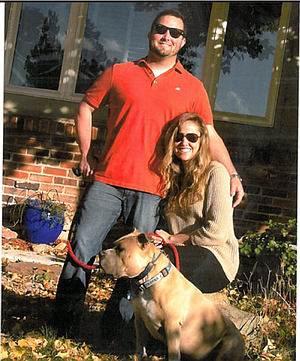 Todd and Holladay
Mr. and Mrs. Alan Todd of Leawood, Kansas are pleased to announce the engagement and upcoming wedding of their daughter, Emily Todd to Jason Holladay son of Willard and Robin Holladay of Lawrence, Kansas. The couple will be tying the knot in Montego Bay, Jamaica on December 13, 2014.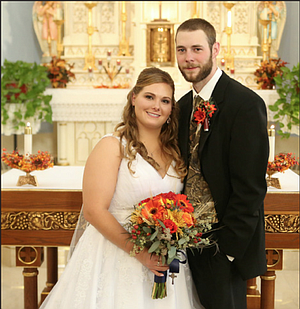 Montgomery and Visocsky
Ashley Montgomery and Joshua Visocsky were married November 1, 2014, at St. Catherine Catholic Church, Catharine Kansas, with Fr. Pat Sullivan of Frankfort Kansas officiating. Parents of the bride are Will & Pam Montgomery, rural Catharine. Grandparents of the bride are Joyce Dreiling, Catharine, Leo Walter, Hays, and Paul Dreiling, rural Ellis. Parents of the groom are Keith Visocsky, Topeka, and Allison Salsbery, Meriden. Grandparents of the groom are Pam & Roy Cook, rural LeCompton, Frank & Glenda Visocsky, Topeka, and Willard & Mary Jane Salsbery, Glendale Arizona. The bride was escorted by her father. Maid of honor was Amanda Montgomery, sister of the bride. Bridesmaids were Laura Montgomery, sister of the bride, Danielle Cooper and Sabina Hoffman, friends of the bride. Best man was Tyler Kruse, friend of the couple. Groomsmen were Chase Polifka, Nathan Braun, and Joseph Reid, friends of the groom. Ushers/Junior Groomsmen were Luke Montgomery, brother of the bride, and Wesley Visocsky, cousin of the groom. The bride is a 2009 graduate of Hays High School and 2013 graduate Fort Hays State University. She is a soil conservationist for the USDA-NRCS in Marshall & Washington Counties. The groom is a 2009 graduate of Oskaloosa High School. He is a corrections officer at Tecumseh Nebraska State Prison. The newlyweds are at home in rural Marysville Kansas.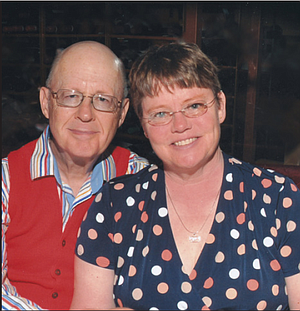 Somerville
Dean and Janice Somerville will celebrate their 40th wedding anniversary on Saturday, November 29th. They met performing in the Fairfax Symphony in Virginia, and married at the Main Chapel at Fort Meade, Maryland, where they both served with the U.S. Army Field Band. Both are retired from the United States Army. They moved to Lawrence in June, 2010. Their family includes daughters Ruth H. Reiha, Audrey J. Phelps, and Mary J. Stuckemeyer; Grandchildren: Raven Reiha, Breton Reiha, Kira Phelps, Caden Phelps, Miles Phelps, and Emma Stuckemeyer.
Murray
Gailen & Sharon Murray of Gardner, KS will celebrate their 50th wedding anniversary with a card shower. Gailen Murray & Sharon Robinson were married in Miami, OK on Nov. 23, 1964. Gailen worked for Hallmark Cards for 20 years & Sharon worked for the Baldwin School District (USD 348) for 26 years. Their children are: Sha Harmon & husband, Bill of Baldwin City, Greg Murray & wife Robi, Shari Hicks & husband Noel of Lawrence, KS & 8 grandchildren: Brandon, Saundra, Blake, Molly, Colby, Aiden, Kennedy & Riley. Cards may be sent to the couple at 856 S. Juniper Ln., Gardner, KS 66030-1468.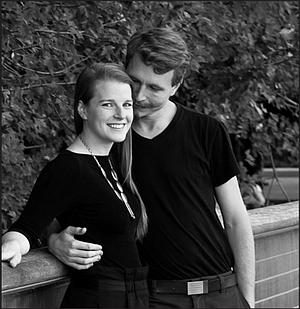 Edwards and Dickson
Together with their families, Emily Edwards and John Dickson are delighted to announce their engagement. The future bride is the daughter of Anne & Rich Bailey and Carl Edwards & Mark Stotler, all of Lawrence, Kansas. Emily graduated from Lawrence Free State High School in 2007. She received her BA in art history from Cornell College in 2011 and her MA in art history from the University of Illinois at Urbana-Champaign in 2014. She currently works at the Art Institute of Chicago and Lillstreet Art Center. The future groom is the son of Sarah Simmons & the late John Thale of Chicago, Illinois, and Chris & Rebecca Dickson of Evansville, Indiana. John graduated from Northside College Preparatory High School in 2007, and received his BA in mathematics as well as his secondary education certification from Cornell College in 2011. He is the founder of Spoken Art Bicycle Wraps, Johnseye Photography, and teaches at Near North Montessori School. Emily and John reside in Chicago, Illinois, and plan a September, 2015 wedding in Lawrence, Kansas.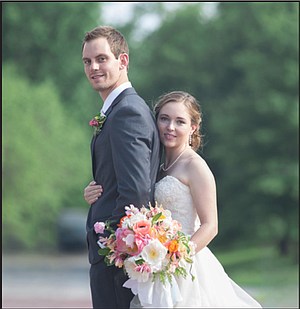 Fredrickson and Nagengast
Amanda Jean Fredrickson and William David Nagengast, both of Lawrence, were married on May 25, 2014, at Redeemer Lutheran Church, Lawrence. The bride is the daughter of Kevin and Lisa Fredrickson, Lawrence. The groom is the son of Dan Nagengast and Lynn Byczynski, Lawrence. Maid of Honor was Rachel Unruh. Best Man was Andrew Voth and Honorary Best Man was LCpl Kevin Calton. Bridesmaids were Laurel Nagengast, sister of the groom, Naomi Leary and Marie Osterhaus. Groomsmen were John Fredrickson, brother of the bride, Graham Unruh and Eric O'Rear. Ushers were James Fredrickson, brother of the bride, Tim Fredrickson, Evan Fast and Peter Zemanski. The Bridal Attendant was Rebecca Casey. A reception was held following the wedding ceremony at The Cider Gallery, Lawrence. The bride and groom are 2007 graduates of Lawrence High School. The bride earned her Bachelors of Science in Business Administration in 2011 from Bethel College. She is employed by Ogden Publications as a Marketing Communications Designer. The groom graduated in 2012 from Bethel College with a Bachelors of Arts in History. He is employed by the Stone Group West as the Midwest Sales Representative. The couple reside in St. Louis.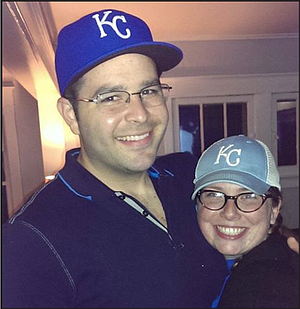 Phelps and Kelly
David and Karen Phelps of Lawrence are pleased to announce the engagement of their daughter, Elizabeth, to Michael Kelly, son of Randall and Marilyn Kelly of Leawood. Elizabeth is a 2003 graduate of Free State High School and a 2007 graduate of the University of Mary Washington in Fredericksburg, Virginia. She is an assistant editor at Andrews McMeel Universal in Kansas City. Michael is a 2004 graduate of Rockhurst High School, a 2007 graduate of Kansas State University and a 2011 graduate of the University of Kansas School of Law. He practices law with Morrow Willnauer Klosterman Church, LLC in Kansas City. The couple resides in Roeland Park, Kansas. An April 2015 wedding is planned in Kansas City.