Shuck
Warren and Elsie Shuck were married July, 18, 1954. The family will celebrate with an open house reception from 2:30 pm to 4:30 pm July 20 at Union Pacific Depot, 402 N. 2nd St., Lawrence, KS. No gifts please.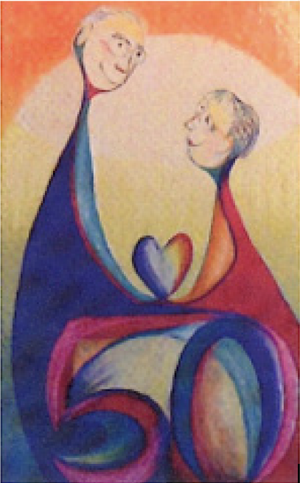 Baron
Frank and Betty Baron intend to continue celebrating, with a family trip to Berkeley, CA, where they were married in the garden of the First Unitarian Church, on July 12, 1964. Frank taught German at KU, and Betty taught English at various colleges in the Kansas City area. They have two children, Christopher and Maya, and a daughter-in-law, Beth Skinner. Maya drew the sketch above.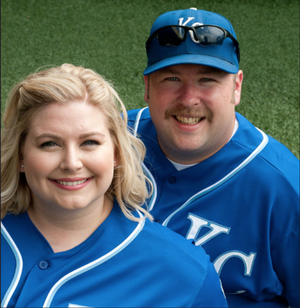 Bellinder and Benson
Nicole Bellinder and Adam Benson, both of Kearney, MO announce their engagement. She is the daughter of Geoffrey and Brenda Kirkendall of Lawrence and Jerry Bellinder of Manhattan, KS. He is the son of Gary and Sharon Benson of Liberty, MO. The future bride graduated from McLouth High School in May of 2004. She earned an Associates of Science degree in 2005 from Coffeyville Community College. She is employed by MOST Programs in Kansas City, KS. The future groom graduated from Liberty High School in May of 2001. He attended Missouri Western State University for three years and attended Metropolitan Community College at Blue River where he earned his Fire Fighter and Emergency Medical Technician licenses. He earned his Paramedic license at Central Jackson County Fire Protection District. He is employed at the City of Liberty Missouri Fire Department as a Firefighter/Paramedic. The couple plans an evening wedding on January 2, 2015 at St. James Catholic Church in Liberty, MO.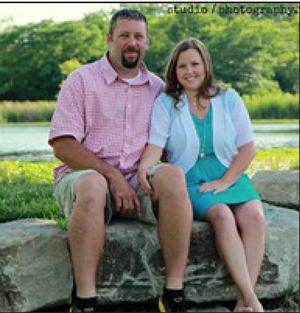 Stoltenow and Hamm
Jessica Stoltenow and Justin Hamm, together with their parents, announce their engagement. The bride-to-be is the daughter of Lorie and Rick Sawyer, Lawrence, and Scott and Lisa Stoltenow, Eudora. She is a 2002 graduate of Lawrence High School, earned her Bachelor's of Science in Health Care Administration from University of Phoenix and is employed by LMH at Lawrence Pulmonary Specialists in Lawrence. The groom-to-be is the son of Lenette Hamm, Baldwin. He is a 1995 graduate of Lawrence High and is employed by TFM Communications in Lawrence. The couple currently reside in Eudora. A December 13, 2014 wedding is planned in Lawrence