Rowden
With stars in their eyes and music ringing in their ears Sara and Justin Rowden celebrated their anniversary just as they did many moons ago. What began as a kiss at a high school basketball game has led to a lifetime of happiness. Family honored them with a special dinner in their honor. Congratulations lovebirds! Your love is an inspiration to us all.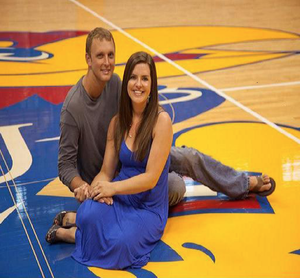 Harrod and Goff
Les and Cheryl Harrod, Lawrence, and Ron and Ruth Goff, Spring Hill, are pleased to announce the engagement of their children, Megan Harrod and Troy Goff. Megan is a graduate of Lawrence High School and received her bachelor's degree from the University of Kansas. She earned a masters degree in business administration from Baker University and is an enrollment representative for the School of Professional & Graduate Studies at Baker. Troy is a graduate of Spring Hill High School and earned a bachelor's degree in Communication Studies from the University of Kansas. He is pursuing a degree in masters of business administration at Baker University and works as a manager at Alvamar Country Club. The couple is planning a May 2014 wedding in Lawrence.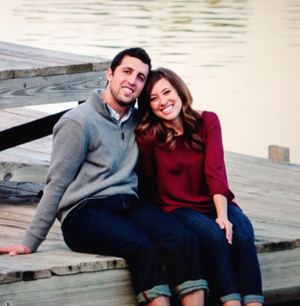 Young and Birchfield
Jodi Lee and Steve Birchfield of Lawrence, Kansas along with Donna Gallo of Flagstaff, Arizona announce the engagement of their son, Anthony Birchfield to Katie Young, both of Prairie Village, Kansas. Katie is the daughter of Chris and Pam Young of Derby, Kansas. A wedding is planned to be held on September 13, 2014.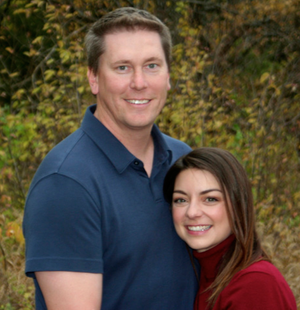 Schild and Bucklin
Ray Schild of Ottawa, Kansas and Linda Schild of Baldwin, Kansas are pleased to announce the engagement of their daughter, Elizabeth Mary Schild, to Brian Eugene Bucklin, son of Joanne and Gary Bucklin of Creston, IA. Beth Schild graduated from Baldwin High in 1998, is a 2003 graduate of Kansas State University, and a 2009 graduate of the MPA program at University of Missouri-Kansas City. She is currently employed as a Development Officer at the Kansas University Endowment Association in Lawrence, Kansas. Brian Bucklin is a 2004 graduate of the University of Iowa, and a 2011 graduate of the MASL program at Benedictine College. He is currently employed as the Physical Education Teacher and Head Baseball Coach at St. James Acadmey in Lenexa Kansas. The couple plan to wed on Feb. 22nd, 2014, in Lenexa, Kansas.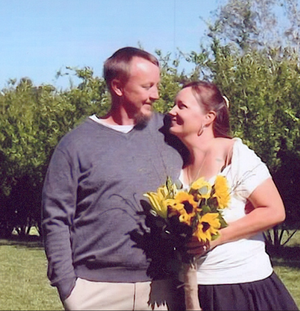 Tyler and Pulliam
Lisa Pulliam and Jack Tyler united their lives in marriage on October 5th, 2013 in an outdoor ceremony at their home in Lawrence, with Dylan Tyler, the groom's son officiating. Their reception was held there immediately following the ceremony. The bride is the daughter of the late Bob and Alice Pulliam, Lawrence, Kansas. The groom is the son of Judy and Tom Crumet, Lawrence, Kansas, and Warren Tyler, Oak Grove, Missouri. Bridesmaids were Jenna McCune and Kimi Kramer, daughters of the bride. Groomsmen were Jackson Tyler, son of the groom, and Mitch McCune, son of the groom. Flower girls wer Abby and Faith Tyler, daughters of the groom. Both the bride and groom are graduates of Lawrence High School. The bride is employed as a crossing guard by the City of Lawrence and is the owner of Two Moms and a Mop in Lawrence. The groom is the owner of Tyler Appliance in Lawrence. The couple reside in Lawrence.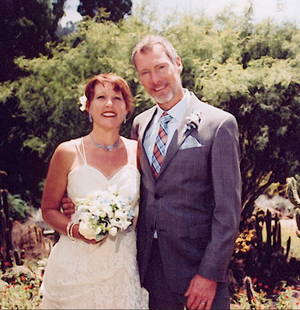 Tyler and Whitworth
Cheryl Tyler and Stephen Whitworth were married at twelve o'clock noon on July 5, 2013 in Berkeley, California. The bride is the daughter of Tom and Judith Crumet of Lawrence, Kansas. The bridegroom is the son of John and Mary Whitworth, both of Maine, who have regretfully passed. The ceremony was held in the Redwood Grove of the Berkeley Botanical Garden with Mary Johnson-O'Neil officiating. The bride was presented in marriage by her mother and her brother, Jack Tyler. The bride's wedding band belonged to her beloved, deceased grandmother. The rings were presented on a Maine pine needle pillow, once a favorite of the groom's mother. The bouquets the bride and mother of the bride carried were designed after her grandmother's wedding bouquet of white roses and tuberoses. The reception was held in San Francisco at the beautiful home of friends Eric Grotke and Windy Chien. Further celebrations took place in Maine and Lawrence, Kansas with family and friends who were unable to attend the festivities in California. The bride graduated from Lawrence High School in 1985 and moved to San Fransisco in 1993. She received her BA fro SFSU and moved to Brunswick, Maine where she received her teaching credential from University of New England. She currently teaches social studies and language arts at Burlingame Intermediate School. The groom graduated from Colby College in Waterville, Maine - following in the tradition of his father. He received a BA in economics. He is the Regional Manager of the Project Management department for Sungevity in Oakland, CA. The couple, having met in Maine, have resided in San Fransisco, CA for the last five years.