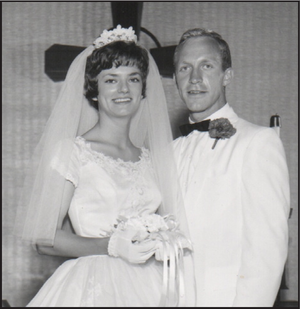 Orchard
Georgia, an active student leader, took a break from her biology studies at Grinnell College long enough to ask a dishwashing quarterback and fellow science major out on a date. They married the summer after graduating, August 16, 1964. Dick's medical training moved them to St. Louis, San Diego and Indianapolis, adding a child to their family in each of those cities. Lawrence has been their home since 1974. She still plans the dates and he still does the dishes. You teach by example how to be good parents, grandparents, and partners for life. Congratulations, Mom and Dad, on a wonderful 50 years!!!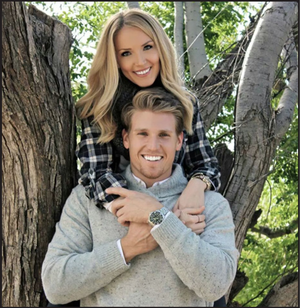 Bowden and Manship
John and Adra Bowden of Lawrence, Kansas are pleased to announce the engagement of their Daughter, Raya Bowden, to Christopher Manship, son of Jim and Debbie Manship of Cave Creek, Arizona. The wedding is planned for January 10, 2015 at the groom's home in Cave Creek, Arizona. The future bride is a 2006 graduate of Lawrence High School, a 2011 graduate of the University of Kansas School of Biology, and a second year pharmacy student at the University of Kansas. The future groom is a 2008 graduate of Cactus Shadows High School of Cave Creek, Arizona and a 2012 graduate of the University of Kansas School of Civil Engineering.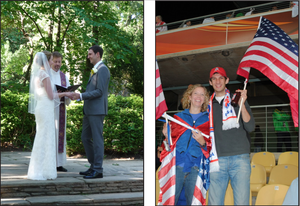 Hummert and Young
Erin Higgins Hummert and Garrett Burnett Young of Addis Ababa, Ethiopia, were married on July 5, 2014 at Woodend Sanctuary of the Maryland Audubon Society in Chevy Chase, MD. Erin is the daughter of Ray and Mary Lee Hummert of Lawrence, KS. She is a graduate of Lawrence High School and holds degrees in Chemical Engineering and Medicine from the KU Schools of Engineering and Medicine, respectively. She completed her residency in Internal Medicine and Pediatrics at the University of North Carolina. Garrett is the son of Sherilyn and Gary Young of Concord, New Hampshire. He is a graduate of Concord HS. Garrett has a degree in Urban History from the University of Pennsylvania where he was the Managing Editor for the Daily Pennsylvanian. Although meeting in Swaziland, the relationship was solidified during the World Cup soccer games in South Africa in 2010. Friends recall their first date as being the US/England match which ended as a tie one/one. Erin said that did not "count as a date. It was by complete chance we both even ended up at the game let alone sitting next to each other unless Alison End Fineberg had a plan we didn't know about!" Fineberg countered that the "roomy RAV4 trunk for the ride back to Joburg was not left open and waiting for Garrett just by chance." That was the first of many trips to South Africa for world cup matches. The wedding and the reception were on the grounds of the Maryland Audubon Society's Woodend Sanctuary located on the outskirts of Washington, DC's Rock Creek Park. The 40-acre property dates back to 1699 and the mansion was designed in the late 1920's by John Russell Pope, architect of the Jefferson Memorial and the National Gallery of Art. The ceremony was held in "the Grove," a wooded area, followed by cocktails on the portico, and dinner and dancing on the tented patio and in the mansion. The Reverend Jared Rardin, pastor of the South ongregational Church, Concord, NH officiated the ceremony. A friend of the couple, Tao Fineberg from Swaziland, streamed live the ceremony and reception to Swaziland and Ethiopia to friends of the couple unable to attend. The event was an international gathering with attendees from Swaziland, Ireland, Tanzania, Cambodia, Laos, Myanmar, and Canada, as well as from many states in the US, including Kansas, New Hampshire, North Carolina, New York, Illinois, Missouri, Texas, Georgia, Colorado, Iowa, Oregon, Rhode Island, and Connecticut. One of the highlights of the evening occurred when the band Sound Nation played the African hit song "Doo Bee Doo" by Freshly Ground, a special request of the bride and groom, and the dance floor filled with Swazi ex-pats, friends, and family of the couple from all over. The matron of honor was Bambi Boedecker of Lawrence, a friend of the bride for over 25 years who readily shows pictures of Erin with her junior high hairstyle wearing a South Junior High black and gold basketball uniform. The best man was Joe Novotny whom Garrett met in Swaziland, where they both arrived to work at the Clinton Health Access Initiative within a week of each other in 2010 where they shared both a house and a small office for nearly three years. He recently relocated from Swaziland to Cambodia where he is working on a Southeast Asian regional initiative to eliminate malaria. The Flower Girl was Molly McDonald, a cousin and godchild of the bride, from Kirkwood, MO. The Ringbearer was Aiden Rushton the son of a friend of the groom from Newport, RI. Ushers were Jared Burnett, cousin of the groom, from Mt. Vernon, NH, and Hugh Toner IV, cousin and godchild of the bride, from Peoria, IL. Bridal attendants included Brooke Derrickson of Minneapolis, MN; Alounthith Phichith of Hillsborough, NC; Charlotte Ransom of Eugene, OR; Jhelum Tini Chatterjee of Myanmar; Lani Young of Denver CO; and, Valerie Young of Washington, DC. Groomsmen included Jason Rushton of Newport, RI; Alex Teague of Brooklyn, NY; Alex Bellos of Portland, OR; Josh Gordon of New Haven, CT; Jerry Stevens of Washington DC; and, Joshua Hummert of Manhattan, NY. After a brief trip up the New England coast to Maine, Nova Scotia, and Prince Edward Island, the couple will return to Addis Ababa, Ethiopia, where Erin is a physician and associate professor at Bethel Teaching Hospital. Garrett is the program manager for CHAI's Health Financing program, helping the Ethiopian Health Ministry to improve the availability and efficiency of resources in health care delivery.