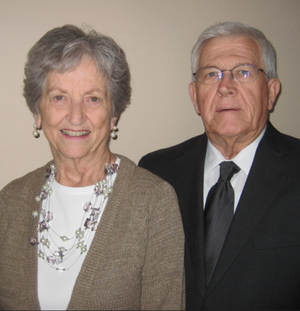 Anderson
John and Pat Anderson will celebrate their 50th wedding anniversary on April 18. They were married April 18, 1964, at St. Joseph Catholic Church in Lillis, Kansas. John is retired from the Union Pacific Railroad, and Pat is retired from the University of Kansas. Celebrating with them are their son and his wife, Jeff and Jill Anderson, and their grandsons, Jake and Brady, Lenexa, Kansas.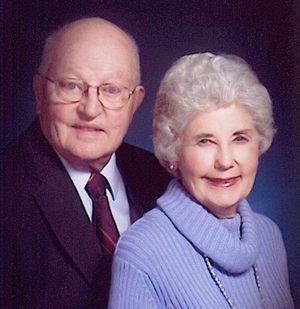 Lutz
Leo and Wilma (Larsen) Lutz, members of Corpus Christi Catholic Church, celebrated their 50th wedding anniversary on April 11. The couple were married at St. Anthony Catholic Church in Long Beach, CA on April 11, 1964. Their children and spouses, David and Angelica Lutz, Costa Mesa, CA and Laura and Brad Elkins, Sacramento, CA are hosting a small family dinner on April 12 at the Eldridge Hotel.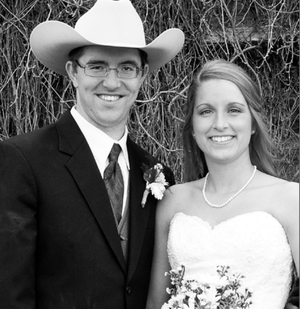 Miles
Dana Maxine Gude and Jason Graham Miles were married on Saturday April 13, 2013 at the Wiley farm, home of groom's grandparents near Reno, KS. The bride is the daughter of Greg and Annette Gude, Olsburg Ks. The groom is the son of Steven and Crystal Miles, Lawrence, Ks. The bride arrived by a carriage, being pulled by her own horse Benny, and escorted by Greg, her father. Buggy drivers were Bob and Becky Avery, Olsburg, Ks. Dr. Gary Teske, Trinity Lutheran Church officiated the open prairie style ceremony. Guitar and vocal musicians were Rusty Rierson, friend of the couple and Lenay Marteney, cousin of the bride. The bride was attended by her sister Amber Gude, Wichita, KS as maid of honor. Bridesmaids included her cousin Erinn Marteney, and friends Elizabeth Gillett, and Emily Grauerholz. The groom was attended by Trevor Fousek, Houston, Texas as best man. Groomsmen included his cousin Tyler Miles, and friends Brett Grauerholz and Ryan Fronk. A Unity box (hand maid by the couple from family farm fences, houses, and barns) was presented by Taylor Shelton. The flower girls were Macy Shelton and Katie Lowry, and the ring bearer was Blake Schweder. Ushers were Jake Mussallem and Tyler Marteney cousins of the bride and Austin Wiley and Trent Miles cousins of the groom. Guest attendants were Bethay Marteney, cousin of the bride and Christy Wiley, cousin of the groom. Bridal Assistants were Amy Hodges, Lenay Marteney, and Stephanie Marteney. A Wiley family cowbell was rung at the end of the ceremony, by June Hagenbuch, great aunt of the groom. The reception was held in Wiley farm's historic native stone dairy barn, built originally in 1942 by the groom's great grandparents. The couple, with the help of family and friends spent hundreds of hours cleaning, fixing, and upgrading the barn for two years prior to the wedding, to restore it to functional use. The bride is a 2006 graduate of Blue Valley High School, Randolph, KS and earned a Bachelor of Science in Electrical Engineering in 2011 and a Masters of Biomedical Engineering in 2013 from Kansas State University. She is employed as a design engineer with RBC Medical equipment, Lenexa. The groom is a 2006 graduate of Lawrence Free State High School, earned a Bachelor of Science in Animal Science in 2011 and will graduate in 2014 with a Doctorate of Veterinary Medicine from Kansas State University. He has accepted an internship with Oakridge Equine Hospital.