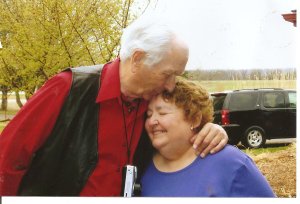 Hills
James and Clenece (Roberts) Hills were married on Christmas Day, 1962, at Trinity Episcopal Church in Lawrence. They will celebrate their fiftieth anniversary with a reception at Trinity Episcopal Church tomorrow (December 30) from 3-5. Friends and former students are invited. Jim Hills retired as a professor at Haskell Indian Nations University in 2001. He has been a school administrator and a specialist in foster care since receiving his doctorate at KU in 1972. Clenece Hills has been an English teacher in the Lawrence Public Schools, retiring in 2000. The Hills have three children. Shane A. Hills (Elizabeth) lives in Overland Park; Anne Hills Woods and Eve Hills Cummins (Jim) live in Lawrence. Four of their grandchildren live in Lawrence: Wyatt James Woods, James Cole Cummins, Bryson Cummins, and Payton Cummins. Three of their grandchildren live in Overland Park: Zachary Thomas Stoll Hills, Rachel Vance Hills, and Grace Elizabeth Hills.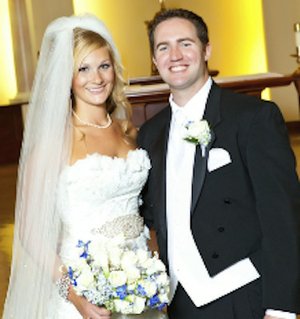 Trepinski and Hibbert
Stephanie R. Trepinski of Lawrence, and James K. Hibbert of Bristol, England were united in marriage on September 8, 2012, at two o'clock in the afternoon at St. John the Evangelist Catholic Church. Father Roger Schroder, a family friend of the Trepinski's officiated. The bride is the daughter of Robert and Celeste Trepinski of Lawrence. The groom is the son of Michael and Ann Hibbert of Bristol, England. Matron of Honor was Sarah Luczak. Maid of Honor was Lauren Parsons. Bridesmaids were Kristen Miller, Malinda O'Hara, April Radic and Sarah Rathbun. Flower Girl was Madelyn Luczak. Best Man was Gregory Ball. Groomsmen were Matthew Hibbert, Craig Jarrett and Dante Veja. Ushers were the bride's brothers, Christopher Trepinski and Tony Trepinski. Ring Bearer was Ethan O'Hara. The couple reside in Las Vegas, NV.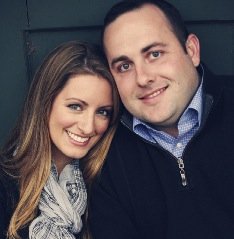 Smith and Davis
Steve and Libby Smith, announce the engagement of their daughter, Sarah Elizabeth Smith, to Mark Kyle Davis, son of Don and Sheryl Burggraf, all of Lawrence, and Mark and Angela Davis, Kansas City, Missouri. The future bride is a 1999 graduate of Free State High School. She earned a bachelor's degree in Fashion Merchandising and Design from Kansas State University in 2003. She is employed by the Lawrence Memorial Hospital Endowment Association. The future groom is a 2000 graduate of Lawrence High School. He earned a bachelor's degree in Business from Kansas State University in 2004. He is employed by Perceptive Software in Shawnee, Kansas. The couple plans a January 12, 2013 wedding at the Lawrence Arts Center.