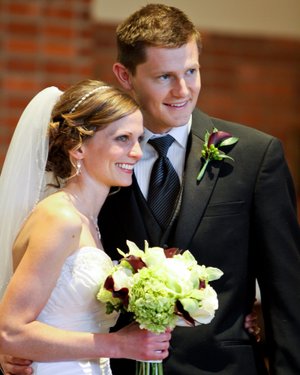 Herman and Henning
Vicky Marie Henning and Eric Andrew Herman, both of Olathe, were married Feb. 13, 2010, at Immaculate Heart of Mary Church in Hays, with Deacon Jim Blume officiating. The bride is the daughter of Kenneth and Traci Henning, Hays. The groom is the son of Jeff and Jeri Herman, Lawrence. Matron of honor was Laura Williams. Best man was Kevin Herman. Bridesmaids were Crystal Cook, Julie Pal, Erin Willis, Stephanie Eilts and Jennifer Bartel. Groomsmen were Jake Danner, Andrew Cummings, Jeremy Dreiling, Quyen Huynh and Ryan Sultzer. Flower girls were Lucy Willis and Ava, Leah and Maya Pal. Ringbearers were Simon Willis and Joshua Williams. A reception was given at the Ramada Inn in Hays. The bride is a 2002 graduate of Hays High School and a 2007 graduate of Kansas State University. She is a fourth-grade teacher for the Olathe public schools. The groom is also a 2002 graduate of HHS and a 2007 graduate of KSU. He is a project engineer for JE Dunn Construction Company in Kansas City, Mo. The couple reside in Olathe.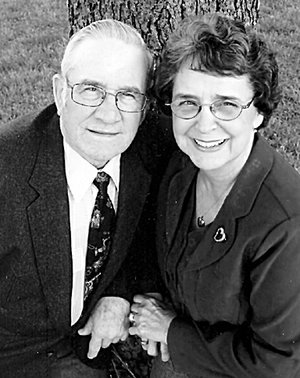 Turley
Franklin and Carolyn Turley, Baldwin City, will celebrate their 50th wedding anniversary on May 22. The couple's children will host an open house for friends and relatives from 1 p.m. to 5 p.m. at the Princeton Community Center, Princeton. Franklin Turley and Carolyn Miller were married on May 21, 1960, in Ottawa. The couple's children are Rocky and Angela Turley, Greensburg, Ind.; Teresa and Rob Meyerkorth, Ottawa; and Melody and Greg Chapman, Palatka, Fla. They have seven grandchildren and three great-grandchildren. The couple requests no gifts.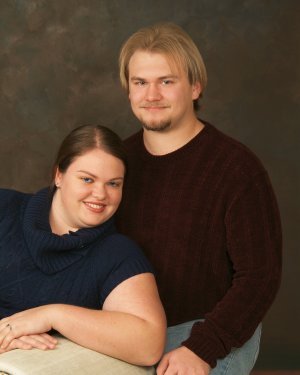 Niedenthal and McElroy
Niedenthal-McElroy Michael and Susan Niedenthal, Lawrence, along with Arvel McElroy, Olathe, and Lyne Tumlinson, Lawrence, announce the engagement of their children, Erin Niedenthal and Aleksander McElroy, both of Lawrence. The future bride is a 2004 graduate of Lawrence High School. She attended Kansas State University School of Interior Architecture from 2004 to 2006, and earned a bachelor's degree in scenography from Kansas University School of Fine Arts in 2009. While attending KU, she worked on the stage crew at the Lied Center for three years and in the University Theatre costume shop for two years. She is pursuing a master's degree in theater design at the University of Georgia and works in the costume shop there as part of her graduate assistantship. The future groom is a 2005 graduate of LHS. He will earn a bachelor's degree in environmental geology from KU this month. He recently obtained an intern geologist certification and is looking into employment in the Atlanta area. The couple plan a Sept. 4, 2010, wedding at Holy Trinity Orthodox Church in Olathe.