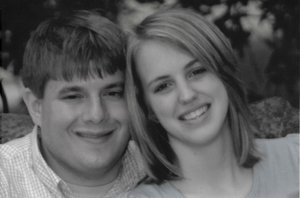 Holmes and McGraw
Joe and Carol Holmes, Halstead, announce the engagement of their daughter, Megan Ruth Holmes, Manhattan, to Daniel Andrew McGraw, Lawrence. Daniel is the son of Mike and Sheryl McGraw, Memphis, Tenn. The future bride is a 2006 graduate of Halstead High School. She is a junior at Kansas State University majoring in communication studies. She is employed as a summer orientation leader and in the information technology department in Hale Library at K-State. The future groom is a 2000 graduate of Ridgeway High School. He earned bachelor's degrees in psychology and vocational ministry from Harding University, Searcy, Ark., in 2004. He also earned a Master of Divinity degree from Harding's Graduate School of Religion in 2008. He is employed by Southside Church of Christ in Lawrence as the campus minister for Hawks for Christ. The couple plan a July 18, 2009, wedding at Northside Church of Christ in Wichita.
Adams and Dunn
Crystal Adams and Michael Dunn, both of Lawrence, were married Oct. 31, 2008, at the Douglas County Courthouse with judge Paula Martin officiating. The bride is the daughter of Michael Pritchett, Gladewater, Texas, and Denise Pritchett, Lawrence. The groom is the son of Janet Dunn and the late William Dunn. Maid of honor was Jenica Adams, daughter of the bride. Best man was Christopher Moore. Bridesmaids were Cristina Johnson, Denise Brewer and Candace Moore. Groomsmen were Lyle Johnson and Rob Brewer. Ring bearer was Austin Dunn. The bride is a graduate of Thomas Downey High School in Modesto, Calif. She earned an associate's degree from Andon College. She is employed with Connex International in Lawrence. The groom is a graduate of Lawrence High School. He joined the U.S. military and earned an associate's degree from the Community College of the Air Force. He is a member of the U.S. Air Force at Forbes Field in Topeka. The couple reside in Lawrence.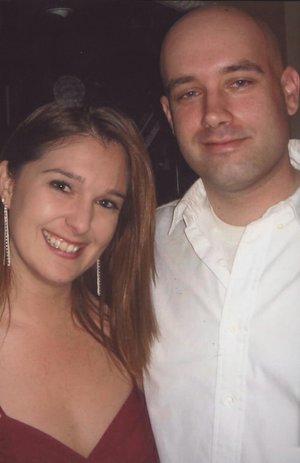 Racy and Geddes
Donald and Ann Racy announce the engagement of their son, Geoff Racy, all of Lawrence, to Tamelene Geddes, Colorado Springs, Colo. The future bride is the daughter of Gene Geddes, Hollywood, Fla., and Michelle Hurley, Tucson, Ariz. She is a graduate of W.B. Ray High School in Corpus Christi, Texas. She is a branch division manager for Tiger Financial Management in Las Vegas. The future groom is a 1995 graduate of Naperville North High School in Naperville, Ill. He attended Illinois State University and Kansas University. He is a surveillance representative at the Palms Casino in Las Vegas. The couple plan a Nov. 16, 2008, wedding at the Hartland Mansion in Las Vegas.