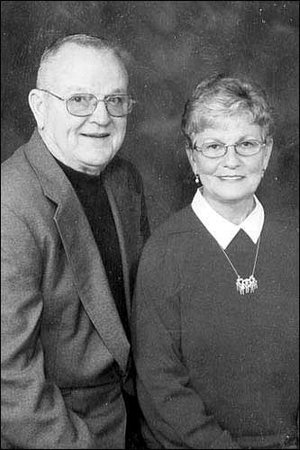 Lisher
Melvin and Rebecca Lisher, Lawrence, are celebrating their 50th wedding anniversary today with a family dinner. Melvin Lisher and Rebecca Boeck were married Feb. 14, 1954, at the Immanuel Lutheran Church in Kansas City, Kan. Melvin retired in 1993 as owner of Lisher Electrical Construction. Rebecca is a homemaker. The couple's children are Mel and Charlene Lisher, Lawrence, and Bob and Diana Lisher, Lawrence. They have five grandchildren.
Graham and Turner-Graham
Drs. Barney Scott Graham and Cynthia Turner-Graham, Rockville, Md., will celebrate their 25th wedding anniversary by renewing their vows. The couple will exchange vows March 20 at National City Christian Church in Washington, D.C. A reception and party will follow the event. Barney Graham and Cynthia Turner were married March 3, 1979, in Wichita. Barney is the son of Carol Graham, Lawrence, and the late Dr. Barney Graham. Cynthia is the daughter of Wilma Turner, Wichita, and the late Dr. Hulon Turner. They are both 1979 graduates of Kansas University medical school. Barney is a research scientist at the National Institute of Health. Cynthia is a psychiatrist in private practice. Their children are Ebone Graham, Los Angeles; Daniel Graham, Chicago; and Anne Margaret Graham, New Orleans. They have one grandchild.