Sanders
Alan and Diane Sanders celebrated their 60th wedding anniversary on June 22, 2018. The couple met on a blind date in 1955, and were married three years later in Wichita, Kansas. They moved to Lawrence in 1965 when Alan filled the void of a full time clinical anatomical, and forensic pathologist at Lawrence Memorial Hospital. He was soon joined by Dr. Laurance (Bud) Price, and later, by Dr. Carol Moddrell. Alan and his partners also founded Lawrence Clinical Laboratories, which provided private, clinical laboratory services in Lawrence. Alan fully retired in in 2000, but has stayed active with gardening, reading, and cycling, and numerous community volunteer positions. Diane is a board certified bacteriologist/medical technologist, but has spent most of her married life raising a family, gardening, and also volunteering for various local philanthropic organizations. Diane (and now Alan) volunteers for Meals on Wheels every Thursday (which she has done since 1975), and have been members of Plymouth Congregational Church since 1965. The couple has two sons: Dr. Karl Sanders of Salt Lake City, Utah, and wife Natalie, and their three children; and Curtis Sanders of Aspen, Colorado, and wife Catherine and two children. The extended family is planning a 60th anniversary celebration together at a later time this Summer.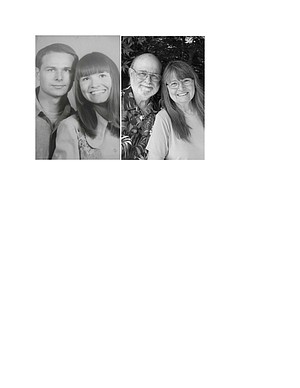 Rose
Wendy and Bob Rose Teenage sweethearts Wendy (Jackson) Rose and Robert (Bob) Rose are celebrating their first 50 years of marriage this month. Both Wendy and Bob are retired international school teachers who lived and worked in seven countries: Portugal, Philippines, Niger, Tunisia, Japan, England, and the USA.They are very proud of their daughter, son-in-law, and grandchildren who make Wendy and Bob happy, happy, happy.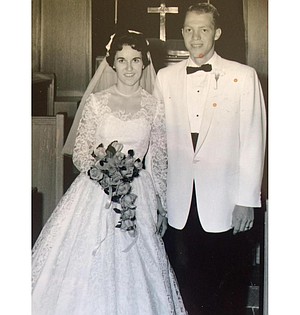 Reese
John and Shirley Reese celebrated their 60th wedding anniversary June 8, 2018. They have lived in Lawrence since 1968. John graduated from KU Medical School (1961) and practiced general surgery with Jones, Manahan & Reese. Shirley graduated from St. Francis School of Nursing (Wichita,1957) and retired from nursing when sons Jeff and Graham were born (1960, 1963). They are members of Trinity Episcopal Church.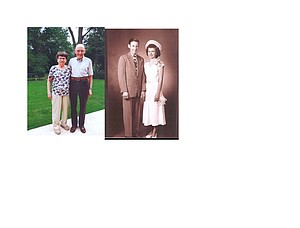 Guggisberg
Carl and Doris will celebrate their 70th wedding anniversary with family. Carl Guggisberg and Doris Roberts were married June 13, 1948 at the Methodist Church in Burns, Kansas. Carl served on a Navy destroyer in WWII. He spent 30 years in the Naval Reserve, retiring in 1978. He worked in the parts department at Ford dealerships in Topeka; Glendale, California; and Lawrence for over 40 years. He retired from Laird Noller Ford. Doris worked at the Topeka Air Force Supply Depot for 7 years and was a homemaker. They have two daughters, Carol (Steve) Martindale of Lenexa; and Kimberly (Clarence) Rayton of Lawrence. They also have five grandchildren and five great-grandchildren.
Shumaker and Ellard
Jesse Schumaker and Ashley Ellard are pleased to announce their engagement. They are planning a June wedding in Kauai.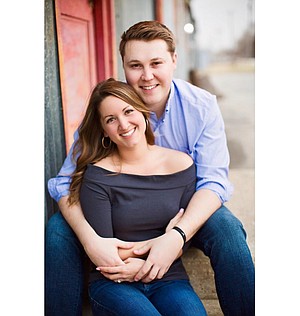 Hay and Bales
Chloe Hay and Trey Bales are planning a September 2018 wedding. The engagement is announced by their parents, John and Megan Hay of Baldwin and Brett and Leslie Bales of Shawnee. Chloe is a 2016 graduate of Kansas State University with a degree in Elementary Education. She is currently employed by USD 497 in Lawrence. Trey received a Communications degree in 2017 from Avila University. He is employed by Shaw Flooring, St. Louis, Missouri.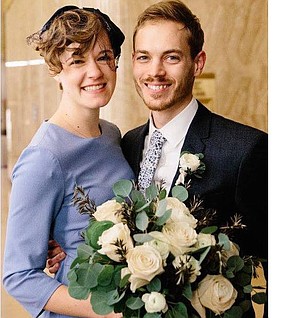 Davidson and Bradley
Davidson-Bradley Wedding Julia Davidson and Hunter Bradley were joyfully married on December 28, 2017 at the Ramsey County Courthouse in St. Paul, Minnesota, with their parents in attendance. They reside in Minneapolis, Minnesota. Hunter is Vice President of Colonial Converting Corporation. He is the son of Jeff and Sarah Bradley, Sturgeon Bay, Wisconsin. Julia is an art administrator, performer, teacher and choreographer of dance. She is the daughter of Steve Davidson and Jane Faubion, Lawrence, Kansas.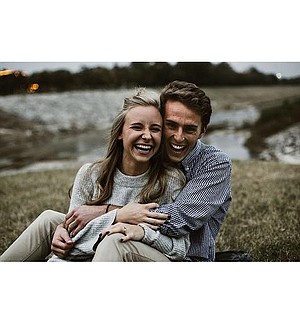 Newsome and Paulson
Bill and Tecile Newsome of Lawrence, KS announce the engagement of their son, Preston, to Stephanie Paulson, daughter of Eric Paulson and Ellen Paulson of Torrance, CA. The future groom is a 2011 graduate of Free State High School, and a 2015 graduate of Texas Christian University with a degree in Marketing. He is employed by Christ Chapel Bible Church in Fort Worth, TX. The future bride is a 2013 graduate of Chadwick School in Palos Verdes Peninsula, CA, and a 2017 graduate of Texas Christian University with a degree in Criminal Justice and Communication Studies. She is employed by Arcadia in Fort Worth, TX. The couple is planning a May 2018 wedding in Fort Worth. They will reside in Fort Worth.
Kennedy and Drendel
The family of Jamie Hutchison Kennedy is pleased to announce her marriage to Mr. Dick Drendel on Sunday, April 22, 2018. Their vows were exchanged in the presence of their delighted combined adult children, spouses, and grandchildren. The couple is at home in Wichita and Haviland, Kansas.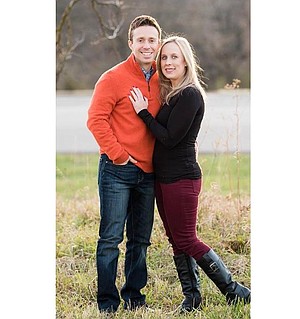 West and Baker
Rodney West and Bernadette West of Lawrence, KS, are happy to announce the engagement of their daughter, Meredith West, to Andrew Baker, son of Robert and Linda Baker of Overland Park, KS. The future bride is a 2006 graduate of Lawrence High School and 2010 graduate of Emporia State University with a degree in Business Administration. She is currently employed by Frisco Independent School District. The future groom is a 2002 graduate of Blue Valley Northwest and 2007 graduate from the University of Kansas with a degree in Journalism. He formerly worked at 6News Television in Lawrence as a Sports Reporter/Anchor. He currently is employed at Travelers Insurance. The couple resides in Dallas, TX. They are planning a September 2018 wedding.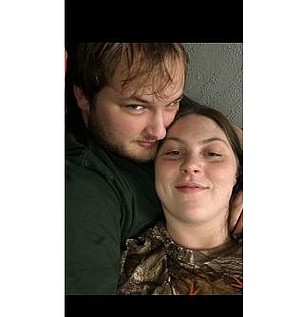 Elliott and Michner
Dustin Elliott and Carla Mitchner would like to announce their engagement as of March 2018.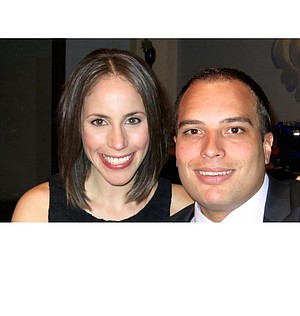 Flescher and Raphael
The engagement of Shira Flescher and Bernard Raphael is proudly announced by Anne and Bob Schulman, and Sheila Raphael, James Raphael and Judi Cettel. Shira is the daughter of Anne Schulman, of Lawrence, and the late Eric Flescher. Bernard is the son of Sheila Raphael and James Raphael, of Cincinnati, OH. Shira is a graduate of Lawrence High School, as well as The University of Colorado at Boulder and New York University. She is a Director of Music for Brands & Advertising at Sony Music Entertainment. Bernard is a graduate of Saint Xavier High School in Cincinnati, OH and the Carroll School of Management at Boston College. He is a Senior Vice President in the private equity sponsor coverage group at Capital One Healthcare. A January 2019 wedding is planned in New York City where the couple currently resides.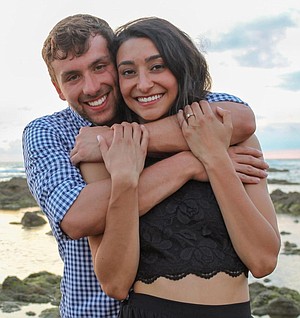 Gabler and Terrell
Paul and Peggy Gabler of Lawrence are pleased to announce the engagement of their daughter, Leah Renee Gabler to Joshua Michael Terrell, son of Lowell and Heather Terrell of Lawrence. Leah is a 2015 graduate of Lawrence High School. She is currently a student at Oklahoma Wesleyan University in Bartlesville, Oklahoma and will graduate in May 2019 with a Bachelor of Science degree in Nursing. Joshua is a 2015 graduate of the Lawrence Virtual High School. He is currently a student at CarsonNewman University in Jefferson City, Tennessee and will graduate in the summer of 2018 with a Bachelor of Science degree in Exercise Science. The couple plan a May, 2019 wedding in Lawrence.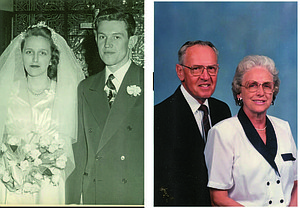 Gelvin
Ralph and Donna Gelvin will celebrate their 70th wedding anniversary on Sunday, March 11 from 24 pm at Pioneer Ridge Health Center located at 4851 Harvard Road (Harvard and Wakarusa). Ralph and Donna were married in Danforth Chapel on March 14, 1948. Ralph spent much of his career at FMC and Donna was a Registered Nurse. They have two children, Sharylyn and Ralph Jr, and five grandchildren. Friends are invited to join the family in honoring Ralph and Donna on this joyous occasion. No gifts please.