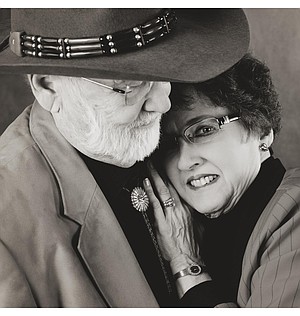 Kleist
Sue Ann and Tom Kleist were married February 14, 1988, at the Lenexa United Methodist Church. Rev. Ron Holland officiated. They have been residents of Baldwin City for 12 years and are active in the community. Tom retired from the Union Pacific railroad in 2003 after 30 years of service. Sue Ann worked for several financial institutions in the Overland Park area, and retired from Waddell and Reed in 2004. She was also a church organist for many years. They have three children, six grand children and one great granddaughter.
Murphy and Paez
McKayla Carole Murphy and Paul Joseph Paez are happy to announce their engagement. They met at Lawrence High School and began dating in 2010. They plan to marry November 10, 2018 in Olathe, KS.
Groenhagen and Carpenter
Anna "Nisa" Groenhagen and Trenton Carpenter are pleased to announce their engagement. They both graduates of Lawrence High School, where they started dating in 2010. They are planning for a wedding in 2018.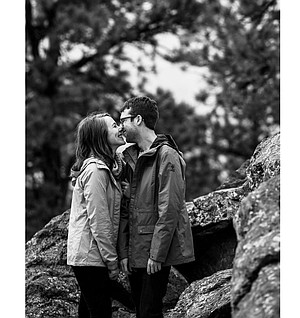 Mockry and Harrison
Lynn Mockry and Kathy Rose-Mockry of Lawrence, Kansas are pleased to announce the engagement of their son, Stephen Mockry to Gabriella Harrison, daughter of David Harrison and Mellody Trahoon-Harrison of Topeka, Kansas. Stephen is currently pursuing a graduate degree in couples and family therapy at the University of Colorado-Denver. Gabriella is a pediatric speech-language pathologist in the Denver, Colorado area. The wedding is planned for June 2018 in Lawrence, Kansas where the couple attended college.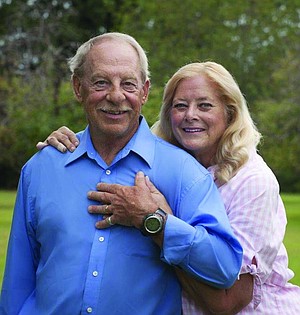 Howard and Meacham
Catherine Wright Howard, Lecompton, and Milton (Tony) Meacham, Kemmerer, Wyoming, announce their marriage on August 5, 2017. Reverend Tobias Schlingensiepen, Senior Minister, at First Congregational United Church of Christ, Topeka, officiated. The bride wore a street-length white lace dress and carried a bouquet of pink and white roses that she created herself. The wedding took place in the picturesque Doran Rock Garden, Gage Park, Topeka with the couple surrounded by their children. Granddaughter, Chelsea Meacham, was flower girl. Shannon Meacham read 1 Corinthians 13, and Billy Meacham played the guitar and sang the Brett Eldredge tune, "Wanna Be That Song." Marina Howard, Christina Howard, and Karrie Meacham served as attendants. Best men were James Howard and Dean Meacham who assisted with the double-ring ceremony. Special guests were Abby Schlingsensiepen from Topeka and Tyler Johnson from Denver. A luncheon and a reception followed the ceremony. After a honeymoon in Kansas City, the Meachams are home at Eagle Ridge Ranch in Lecompton.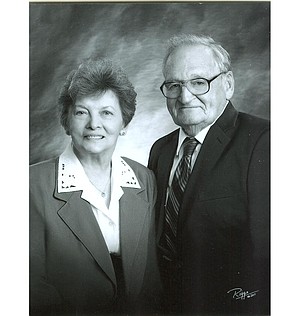 Curry
Dwight and LaVerne Curry are celebrating their 65th wedding anniversary Dec. 26, 2017. They are planning a dinner with their children, grandchildren, and greatgrandchildren. Their children are Myrna Schrepel of Hoisington and their son Kevin Curry near Baldwin, KS. Dwight and LaVerne would enjoy a card shower or hearing from their friends and family. Their address is: 3910 Willshire Dr, Lawrence, KS 66049
Nieder and Alumbaugh
The engagement is announced between Cody, son of Monte and Kristyn Nieder of Baldwin City, and Shauncee, daughter of Dana Annis and Russell Alumbaugh of Lawrence.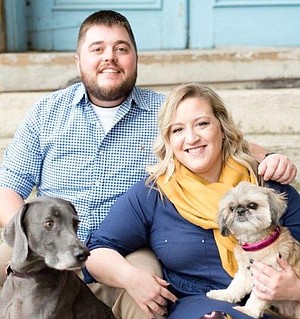 Goff and Walters
Barb and George Goff Jr of Baldwin City are happy to announce the engagement of their daughter Jaimie Goff to Dagan Walters, son of Janice Walters and the late Clifford Walters of Lawrence. Jaimie is the granddaughter of Charlene (Coates) Rockhold and Keith Rockhold of Centropolis, and the late Junior Coates, and George Goff Sr of Lawrence, and the late Frances Goff. Dagan is the grandson of the late Hildred and Johnnie Daniel, and the late Ruby and Tom Jones. Jaimie is a graduate of Baldwin High School and Washburn University with a bachelor degree in Health Communication. She is employed at Lawrence Family Vision Clinic. Dagan is a graduate of Lawrence High School and attended Johnson County Community College. He is employed with Natural Breeze Remodeling. A May 2018 wedding is set.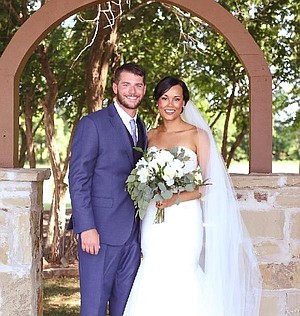 Rea
Keshia Clark and Aaron Rea were mar­ried June 15, 2017 in Ed­mond, Oklahoma at Chisholm Springs Ven­ue. Best man was Adam Rea, brother of the groom, Lawrence, Kan­sas. Matron of honor was Sarah Frabasile, friend of the bride, New York. Other grooms­ men included J.D. Sut­ ton, Connor Duckhorn, Robbie Rea, Andrew Polly, Jake Green, and Dylan Nave. Brides­ maids were Crystal Garman, Michelle Wolz, Danica Maggart, Courtney Martin, Darci Davis and Ashlee Pen­cis. Breanna Freeman, sister of the bride, also was an attendant who escorted ringbearers, Carter Fields and Raiden Mora, nephews of the bride. They reside in Ed­mond. Aaron is Assist­ ant Baseball Coach at the University of Cent­ral Oklahoma. Keshia is an LPN for Integris Medical Center. Aaron is the son of Dan and Julie Rea, Lawrence. Keshia is the daughter of Gene and Dawn Freeman, Ponca City, Oklahoma.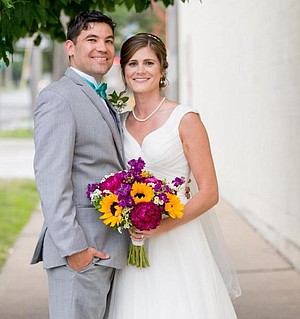 Callaway and Sudderth
Laura Callaway and Jeffery Sudderth were united in marriage on June 25, 2017, at Maceli's in Lawrence, Kansas. Laura is the daughter of Ron and Liz Callaway, Lawrence, and granddaughter of Rita Callaway, Concordia, Kansas. Jeffery is the son of Irene and Robert Blackman, Hockley, Texas, and Patrick Sudderth, Montgomery, Texas. The ceremony was officiated by Thomas Shonitsky. Heidi Bridges served as matron of honor. Bridesmaids were Whitney Keeler, Kerri Carson, and Elise Radcliff. David Sudderth served as best man. Groomsmen were Michael Blackman, Erik Wills, and Jason Tawse. Flower girls were Alayna Sudderth and Brooke Blackman, nieces of the groom. Ring bearer was Asher Callaway, nephew of the bride. Laura is a 2002 graduate of Lawrence High School, earned her Bachelors at KU and Masters of Library Science at Emporia State. Jeffery graduated from Tomball High School in Texas, and earned his Bachelors Degree from Colorado Technical Institute in Business Administration and Project Management. Laura is currently working as a teacher in Magnolia, Texas. Jeffery works as Logistics Manager for 4 Wall Entertainment in Houston. After a honeymoon to Belize, the couple is at home in Magnolia, Texas.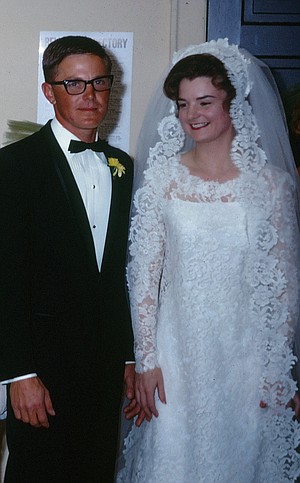 Hausman
Calvin and Roxana (Kanzig) Hausman are celebrating their 50th wedding anniversary. They were married on Nov. 22nd, 1967 at the First Presbyterian Church in downtown Lawrence, Ks. Calvin is a semiretired stockgrain farmer.Roxana, a reading teacher, retired from Lawrence Public Schools in 2007. They have a son, John Hausman, Eudora and a daughter, Gina Hauser and husband, Greg, Castle Rock, Co.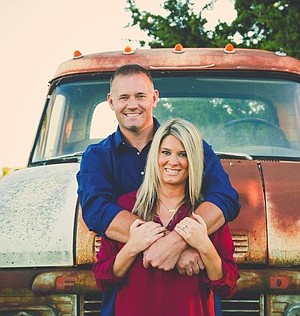 Johnson and Templeton
Robert and Fran Johnson of Lawrence are happy to announce the engagement of their daughter Jennifer Johnson to Bill Templeton, son of Lynda and Ken Templeton of Lake Ozark, MO. Jennifer is the granddaughter of the late Frank and Vivian Johnson and the late Bud and Josephine Petrila. Bill is the grandson of the late Pat and Mildred Patterson and the late Kenneth and Lucille Templeton. Jennifer is a graduate of Lawrence High School and Washburn University with a bachelor degree in Criminal Justice. She is employed with Farmers Insurance. Bill is a graduate of DeSoto High School and Kansas City Kansas Community College. He is a firefighter at Fire District #1 of Johnson County Kansas. A May 2018 wedding is planned.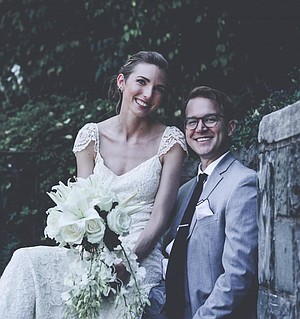 Carey and Fuller
Helen Carey and Nathan Fuller were married on September 16, 2017, in Central Park's South Conservatory Garden, New York, NY. The bride is the daughter of John and Mary Carey of Freehold, NJ. The bride's mother grew up in Lawrence, Kan.; her father, Robert D. Tomasek, is a Professor Emeritus of Latin American Studies at Kansas University and still resides in Lawrence. Her mother, Ruth Tomasek, died May 6, 2016, at Presbyterian Manor in Lawrence, Kan. Ruth was a member of Trinity Episcopal Church and its choir and was a dedicated volunteer driver for Meals on Wheels for 25 years. The bride spent many summers in Lawrence and now visits yearly with her husband. The groom is the son of Russell Fuller of Cookstown, NJ, and Emily Logue and Peter Hoyle (stepfather), of Hamilton, NJ. The bridal party included friends Tamar Poulsen, Colleen Cassidy, Michael Zolnowski, and Christina Alaimo. The groom's party included friends Ron Seidel and John Wintermute, and Nathan's sisters, Holly Fuller and Sierra Fuller. A friend of the couple's, Meir Galimidi, officiated the ceremony and performed a poetry reading, as did the father of the groom and Jenna Frazzini, a friend of the couple's. Helen and Nathan met at The College of New Jersey in 2008 and currently reside in Morningside Heights, Manhattan. Helen works as a copy editor and blogger, and Nathan works in political activism and campaigning. They recently returned from a honeymoon in the Greek Cyclades islands.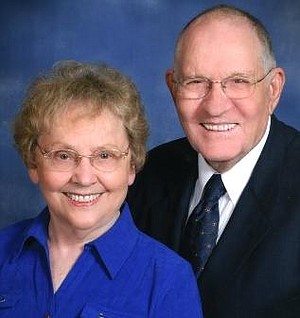 Purvis
The children of Frank & Rachel Purvis will host a 65th Wedding Anniversary reception for family and friends on Sunday, October 29, from 2:00 to 4:00 in the afternoon at the First United Methodist Church, 946 Vermont Street in Lawrence, Ks. Location is handicapped accessible. Other family events have been planned in celebration of this special occasion.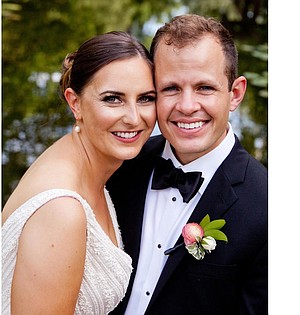 Look and Sarmiento
Kurt Look and Melissa Moore are thrilled to announce the marriage of their daughter Amanda Look to Michael Sarmiento on July 22, 2017. They were married in Chicago at Saint Clement Parish. Father Paul Seaman officiated. Attendants were Sarah D'Ambrosio, nee Look, and Erik Allen. Amanda's three other bridesmaids were Lawrence natives, Melinda Nichols, Bani Singh, and Andrea Koch. Michael is the son of Dorothy Sarmiento and Miguel Sarmiento, both of Belleville, Illinois. Amanda and Michael are now residing in Doha, Qatar in the Middle East. Michael works as a School Counselor at an international high school and Amanda manages the Office of Special Events at Georgetown University-Qatar.